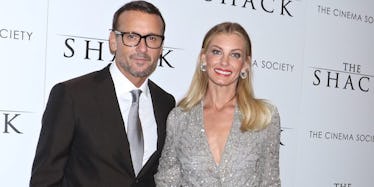 Faith Hill And Tim McGraw Release Powerful New Song And Twitter Is Obsessed
REX/Shutterstock
Prepare to sob openly at your desk. Tim McGraw and Faith Hill just released a song called "Speak to a Girl," and it is an emotional roller coaster.
The song comes off of Hill and McGraw's untitled upcoming joint album. This marks the first time the couple have worked together on a full album, and if this song is any indication of how the rest of the LP is going to sound, I'm the world's newest country fan.
Get that Kleenex ready.
The couple plans on performing the song live for the first time on April 2 at the Country Music Awards.
Faith and ol' tugboat Tim recently spoke about why they chose the song to begin with.
According to Faith,
When you have three daughters and you are lucky enough to come across a song that says, 'Speak to a girl,' kind of resonates with us pretty quickly. I think it's important, particularly this day and time that we live in, words matter, you know? It's important how we speak to one another. It's particularly important how a female, how a girl, learns to be spoken to and how she speaks to others.
McGraw added,
Especially how they expect to be spoken to as they grow older and grow up. What they should expect and it comes from the environment that they live in and how they're spoken to as they're growing up.
Later saying,
Validation, confirmation, respect. Those are the things that I think really matter when you're raising girls. It's important for the boys around your girls to see how you treat them and how you speak to them as well.
The internet is freaking out over this collaboration.
OH, WE FEEL YOU @ICMAYWALD!
These two monsters, though, have nothing nice to say.
After the CMAs Faith and Timmy kick off their third tour, the Soul2Soul World Tour.
Citations: Faith Hill, Tim McGraw release duet 'Speak to a Girl' (Entertainment Weekly)