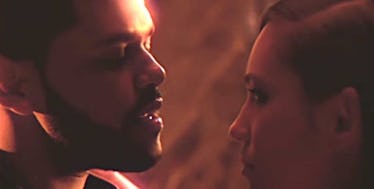 The Weeknd Grinds With Bella Hadid Lookalike In Sexy New Music Video
YouTube
Is The Weeknd REALLY over Bella Hadid? IS HE REALLY?
That seems to be the question on everyone's mind after watching his new music video for "I Feel It Coming" featuring Daft Punk.
The 27-year-old singer is currently dating Selena Gomez, but that doesn't mean he's completely done with his ex.
The Weeknd teased fans on Twitter Thursday evening by promoting the album cover for his single.
The music video dropped later that night and has already racked up over a million views. According to social media, it looks like everyone's enjoying it, but for the most part, people are just really confused.
Want to know why? WELL, THE WEEKND IS GRINDING HARD WITH A BELLA HADID LOOKALIKE IN IT.
Yup, I can't make this stuff up.
The Weeknd COINCIDENTALLY (lmao, STFU) picked a woman to star in his music video who looks just like Bella Hadid.
I'm serious, the two could be twins. The woman is actually a model and actress named Kiko Mizuhara who actually doesn't look like Bella IRL, but in this video she does. Sorry 'bout it!
In the video, we first get a glimpse of the lady's silhouette. You can see she's thin, has medium-length hair and the body of a model.
HMM, MODEL??!?!??!?!!??! LIKE BELLA HADID?
The Weeknd and Bella Hadid's twin start dancing on this planet and she lights up like fire the entire time. The moment is sexy AF and filled with LOTS of passion.
What I'm trying to say is The Weeknd still loves Bella Hadid. End of story. It's just obvious at this point.
Sorry, Selena!
Soon enough, we get to see the woman's face and BOOM! Looks just like Bella Hadid. Check out that side view, yo. Literally has "Bella" written all over it.
I'm not the only one who sees it, so don't go roasting me in the comments. Twitter is lighting up!!!!
This isn't the first time The Weeknd got hot and heavy with a woman who looks like one of his lovers.
At the beginning of January, The Weeknd released a music video for "Party Monster" and the woman who starred in it looked exactly like Selena Gomez.
Zoe Aggeliki Mantzakanis, the woman in the vid, is basically Selena Gomez's twin.
Abel, word of advice moving forward.
STOP CASTING WOMEN WHO LOOK LIKE YOUR EXES AND LOVERS TO BE IN YOUR MUSIC VIDEO IF YOU DON'T WANT US TO DRAW CONCLUSIONS ABOUT YOUR RELATIONSHIP.
Literally, pick a blonde girl with braces. Then we wouldn't be here, bro.
Citations: Watch The Weeknd's New Video for "I Feel It Coming" (Complex)