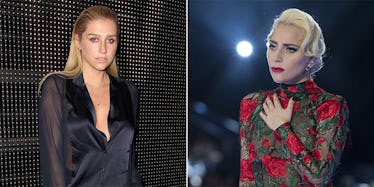 A Text Kesha Sent To Lady Gaga Could Be Key Evidence In Sexual Assault Case
REX/Shutterstock
In August, Kesha dropped the sexual assault case against her producer and alleged rapist, Dr. Luke, in the state of California.
However, her battle in New York is still ongoing, and now, fellow pop stars Lady Gaga and Katy Perry are involved.
It's been reported by DailyMail.com that a text message sent by Kesha to Lady Gaga in April 2016 has been brought to court and is being used as evidence in the case.
The actual text has not been publicized, but it's been confirmed the message was sealed by a judge in a court hearing in New York on December 26.
Apparently, Dr. Luke -- aka, Lukasz Gottwald -- has been given permission to show the infamous text message to both Lady Gaga and Katy Perry.
Again, we do not know what the text message says.
Referring to the text, a judge on the case allegedly said Dr. Luke "may share with Lady Gaga and Perry the April 2016 text that Kesha sent to Lady Gaga, which Kesha turned over in discovery."
Kesha claimed Dr. Luke began sexually assaulting her when she was 18 years old, during which time, Katy Perry worked with him and produced hit records like "Roar" and "I Kissed a Girl."
However, Perry has yet to comment on the ongoing battle between the two.
Lady Gaga, on the other hand, has shown full support of the songstress and said she wants to "stand by her."
It's been reported Kesha's lawyer claimed Dr. Luke also raped Lady Gaga in the past, but both Gaga and Dr. Luke denied that ever happened.
I suppose we'll never know what the text message from Kesha to Lady Gaga said or meant, but we can only hope it will help in her fight to break with Dr. Luke's contract.
In the meantime, the singer will continue her battle for justice.
Citations: EXCLUSIVE: Lady Gaga and Katy Perry dragged into Kesha's sex assault case as court orders Tic Tok singer to show Dr Luke an intriguing secret text she sent to Gaga - which he can then share with Perry (Daily Mail)