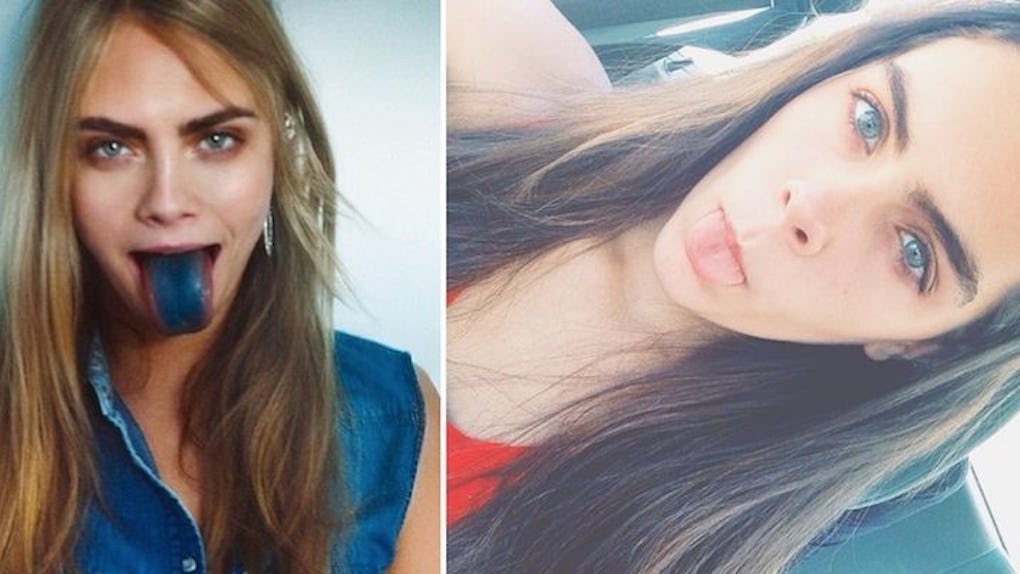 Instagram
Teen Girl From Uruguay Looks So Much Like Cara Delevingne It's Unreal (Photos)
Earlier this week, we showed you Taylor Swift's doppelganger extraordinaire.
Now, the Internet has come upon a teen who is the spitting image of Swift's bestie, Cara Delevingne.
The look-a-like's name is Olivia Herdt, and she is a 14-year-old from Uruguay. Herdt has an active Instagram account and has over 13,000 followers.
The resemblance between the two is uncanny. They both have the bushy eyebrows, and they both have a penchant for making funny faces.
But, don't just take my word for it. See the similarities between Delevingne and Herdt below.
This is Cara Delevingne:
And this is Olivia Herdt:
Cara knows how to have a little fun.
Olivia is no slouch either.
In fact, Olivia might even be sillier than Cara.
But, I have a feeling Cara might have something to say about that.
All in all, you can't deny the resemblance between Olivia and Cara.
 Good work, Olivia. Keep on keepin' on.
Here's what their faces look like mashed together.
Citations: Now Cara has a twin (Daily Mail)