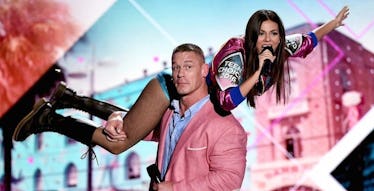 People Are Really Pissed At The Teen Choice Awards For This One Reason
FOX
Fans tuned in to watch the 2016 Teen Choice Awards Sunday expecting a night filled with fun and celebration.
But instead the show left many people upset and disappointed with FOX.
You see, Christina Grimmie was nominated for Choice Web Star in the category for music. Back in June, "The Voice" singer was shot and killed while signing autographs in Orlando, Florida.
Fans were initially excited to hear about Christina Grimmie's nomination because they thought it would be a beautiful way to honor her.
According to her manager, Brian Teefey, it was her third year in a row being nominated for this award.
At the beginning of July, Teefey tweeted out a message from Christina Grimmie's account to encourage fans to vote for her and spread the hashtags.
Sunday night, during the show, fans were left heartbroken and angry because Christina's name wasn't even mentioned once throughout the two hour special.
People went to Twitter to share their feelings on the matter. Christina's followers accused FOX of using her death as a way to promote the show.
If they cut out @TheRealGrimmie winning #TeenChoice for #ChoiceMusicWebStar then they don't know how to respect her name — PearlyShell (@PearlFalcutila) August 1, 2016
Im so pissed the teen choice awards used Christina Grimmie for promo havent even mentioned her #TeenChoice — Liliana (@LiliBeanXoxo) August 1, 2016
Fans made it clear they expected the Teen Choice Awards to at least pay tribute to Christina and acknowledge her in some way.
The fact that they haven't mentioned Christina Grimmie at all makes me so sad #TeenChoice — Kathryn (@Kathryn_Fazio) August 1, 2016
RIP, Christina. This award belongs to you.