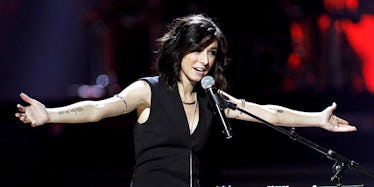 Nick Jonas Reacts To 'The Voice' Singer Christina Grimmie's Tragic Death
REUTERS
Update 12:35 pm EST:
Authorities confirmed Saturday morning the alleged shooter had traveled to Orlando seeking out Christina Grimmie, though his motives remain unclear. Also, Grimmie had posted a short video to her social media accounts before the show, urging fans to come out and watch her perform.
ORLANDO!! Come out to the show tonight at the Plaza Live! Starts at 7:30! pic.twitter.com/0D4mNupCTi — Christina Grimmie (@TheRealGrimmie) June 10, 2016
Singer Christina Grimmie tragically died after falling victim to an attack on Friday night following a concert performance.
Grimmie, who once landed in third place on NBC's "The Voice," had been performing with the band Before You Exit at The Plaza Live theater in Orlando, Florida. While meeting with fans after the show, a man walked up to her and shot her, the artist's publicist said.
After getting tackled by Grimmie's brother, the gunman then turned the weapon on himself and committed suicide.
The news shook up other artists in the music industry, including Nick Jonas, who took to his Snapchat feed to reflect on the singer's death before recalling the first time he met her.
Nick talks about Christina Grimmie's death #RIPChristina @nickjonas pic.twitter.com/zR8Rr0C99P — King Nicholas (@jonasbr0) June 11, 2016
Grimmie, whose third place finish on "The Voice" came in 2014 during the show's sixth season, had recently been working on an album.
Early Saturday morning, fans and fellow artists reacted to the news Grimmie had been shot with the hashtag #PrayForChristina.
Now, with her tragic death confirmed, people have begun to respond with #RIPChristina. Her co-act on Friday night used the hashtag to send out this tribute.
Grimmie was just 22.
Citations: Voice' singer Christina Grimmie shot, killed at concert (USA Today), Christina Grimmie Dead At 22: 'The Voice' Star Passes Away Following Concert Shooting (Hollywood Life), Police Say Gunman Deliberately Targeted 'Voice' Singer Christina Grimmie at Orlando Show (NBC New York)