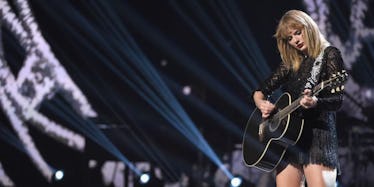 Taylor Swift's New Single Is Reportedly Called "Timeless" And Fans Are Losing Their Minds
Kevin Winter/Getty Images
Taylor Swift shook the world on Monday, Aug. 21, when she released a 10-second video of what appears to be a snake on her Instagram and Twitter. On the morning of Aug. 22, she posted a second video of the weird snake. And her official website is still blank, but now there's a new website — Timeless.com — and that website, ladies and gentlemen, is why I write to you today. Fans think "Timeless" is the name of Swift's newest single, although they have no clue when she's going to drop it. If this is true, Taylor Swift's "Timeless" will be her first solo song since 1989 came out, and fans are losing their sh*t. Elite Daily reached out to Swift's team to confirm the rumors, but did not hear back by time of publication.
Two new Taylor Swift songs have been hinted about on Genius.com: "Timeless," and "Had Nothing But A Time We Never Had." "Timeless" has its own website with a "coming soon" note on the homepage, and "Had Nothing but A Time We Never Had" has a page on Genius. "Timeless" has also been officially registered as a song. So yes, it's safe to assume Taylor Swift is releasing new music very soon.
Taylor Swift's "Timeless" might shut down the internet if there are any more tweets about it.
Then, earlier Tuesday, Aug. 22, Swift released another snake video, only adding more to the music hype.
And now, we have Timeless.com. Whatever this all means, I hope we find out soon because all of this is way too cryptic for my liking.
Fans have been freaking out ever since.
Taylor Swift, honey, please. Just post the other snake videos so we can put an end to all of this wondering.