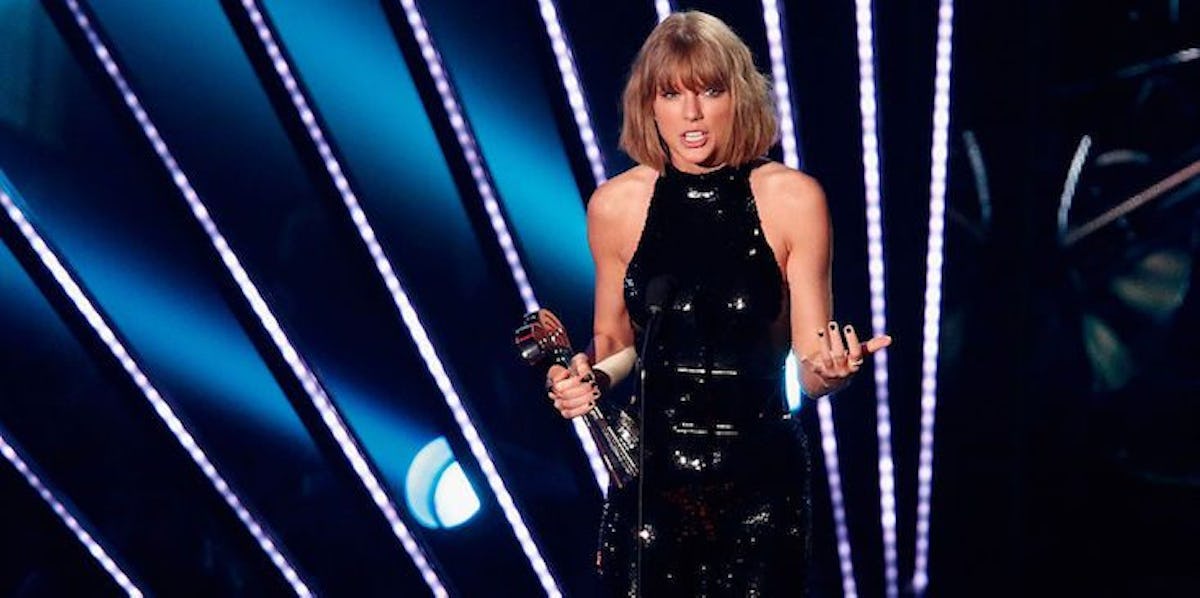 Taylor Swift's Fans Are Calling Her Out For Repeating Lyrics And It's So Awkward
Rich Polk/Getty Images
By now, most of you already know Taylor Swift has released a new single named "Look What You Made Me Do" on Thursday, Aug. 24. Fans everywhere have exploded with excitement about the new song, but it isn't all rainbows and butterflies. A few T. Swift lovers felt a sense of deja vu while listening to her new tune, and Taylor Swift's lyrics are now being compared on Twitter.
There's no denying the lyrics in question are very similar in nature. I mean, "she lost him but she found herself," is a lyric from the song "Clean" off of Swift's album 1989, and it sounds an awful lot like "the old Taylor is dead," from her new single, "Look What You Made Me Do."
It happens again with "got a long list of ex-lovers" from "Blank Space," and "I got a list of names and yours is red underlined," from her newest single. The lyrics aren't identical, but they do sound very similar, which brings me to my next question: Why are you repurposing so many lyrics, Tay?
I get it, creativity can be challenging, but a songwriter like you who has had three years to work should be able to come up with more original work.
The lyrics of her new single are being compared to lyrics from her previous album, 1989. See the comparisons below.
Lyric-gate aside, it's hard to ignore that Swift's shady new song is already trending at number one on YouTube and has amassed well over four million views within hours of debuting.
The girl may have repurposed a lyric or two, but she's definitely doing something right. Let's just hope when Reputation drops in November, it isn't made up of only shady songs dissing Swift's enemies. We also want to hear about what happened with Tom Hiddleston, just saying.