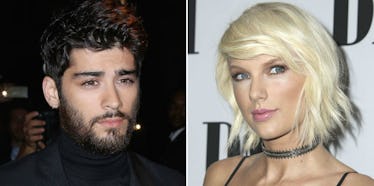 New Photos Hint Taylor Swift And Zayn Malik May Be Dropping A Music Video
REX/Shutterstock
TAYLOR SWIFT AND ZAYN MALIK MIGHT BE MAKING A MUSIC VIDEO TOGETHER, AND I'M FREAKING OUT.
A month ago, the "Shake It Off" singer partnered with the former One Direction member to sing a steamy duet for the "Fifty Shades Darker" soundtrack.
The two debuted the song "I Don't Wanna Live Forever" on Instagram and fans immediately fell in love.
Shortly after, a music video featuring lyrics and clips from the upcoming movie was posted on YouTube.
The four-minute clip was super hot, except Taylor Swift and Zayn Malik weren't even in it.
We did get to see sexy pics of Jamie Dornan and Dakota Johnson, though, so I'm not totally complaining.
However, when I hear Tay and Zay sing (cute, right?) I WANNA SEE THEIR FACES. I wanna watch their bodies dance to the music. I wanna look at Zayn's sexy smolder and watch Tay throw her limbs around like a baby llama.
Well, you guys, my dream might actually become a reality. According to new pics on Twitter, it looks like Taylor Swift and Zayn Malik really are shooting a "Fifty Shades Darker" music video!
THANKKKKKK THE LORDDD.
On January 7, Zayn was spotted in London on what appeared to be the music video's set.
According to the tweets, it looks like there will be rain! OoOooO, so romantic. Are Tay and Zay gonna kiss in it? TEE HEE.
Just kidding, I know Gigi Hadid is in the picture. And she was apparently in London, too.
HMMMM, is the model there to support her man or is she making a cameo in the video? I guess we'll have to wait and see, but anything is possible.
Even though Zayn was on set, it looks like Taylor Swift was hiding from the cameras. According to Twitter, the 27-year-0ld was nowhere to be seen.
TAYLOR, WHERE ARE YOU? DO NOT BE AFRAID.
Welp, Tay and Zay (It's catchy, isn't it?) better drop a sexy music video soon, preferably before Valentine's Day so I have something to watch in bed alone while I cry and binge eat Hot Pockets and Cheetos.
What? It's a good combo. Try it.
Citations: Taylor Swift and Zayn Malik Music Video (seventeen)