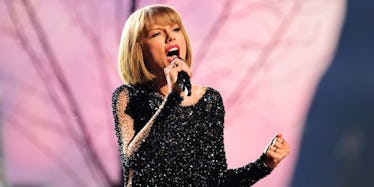 Taylor Swift's Next Single May Be Coming As Early As This Week, So Be Ready
ROBYN BECK/AFP/Getty Images
OK, guys, it's happening. Taylor Swift is coming out with new music. The biggest question among fans right now is: When is Taylor Swift's next single coming out? Well, according to reports, Swift's next single is coming out this Friday, Aug. 25. Multiple sources reportedly revealed to US Weekly that Swift's single (rumored to be called "Timeless") will be released on Friday with its music video coming out shortly after. Sources also told the outlet that Swift's sixth album will be coming out soon, and that she plans on attending the VMAs this Sunday, Aug. 27.
One source told US Weekly, "The song is poppy," and another told the outlet, "She's being very secretive about [her upcoming album], but it's going to be a really good one." That's a lot of information to take in, Swifties! A new single, a new music video, and a promise of a new album and a VMAs appearance all in one week? That's a lot of Swift news in one sitting. It seems like Swift is going to stay in the pop genre, to absolutely no one's surprise. 1989 was an extremely successful crossover album from country to pop, so it's no wonder the singer is sticking to her new genre.
An anonymous source also confirmed to US Weekly back in May that we could expect to see Swift's new album in the fall of 2017. The source said,
She's aiming to release an album this fall. She's continuing down the pop route because 1989 was a huge success and fans really gravitated toward that album. She knows there's a demand for a new album and has really started focusing on making that happen for fans. She's just excited to get back out there.
So now that we have all three of Swift's snake Instagrams, it looks like we're definitely in the beginning phases of Swift getting "back out there." In the time since 1989 was released, Swift won the Grammy for Album of the Year, had some drama with Kim Kardashian and Kanye West, and released her first collaboration with Zayn Malik, "I Don't Wanna Live Forever," for the Fifty Shades Darker soundtrack. If "Timeless" does come out this Friday, Aug. 25, it will be Swift's first solo music since 2014.