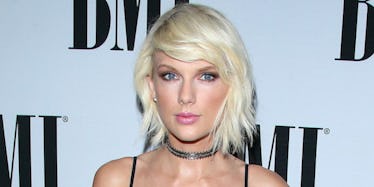 Where Is Taylor Swift At Met Gala 2017? She Skipped The Show
Getty Images
Taylor Swift was nowhere to be found on the red carpet of the Met Gala this year.
The star is usually one of the first to arrive, serving up glam shots and often with bestie, Selena Gomez, in tow.
The Met Gala has even been a place for Swift to bag hot guys. Who can forget the hilarious dance battle she had against her would-be beau, Tom Hiddleston at last year's Met Ball?
Tonight, however, she won't be shaking a tail feather alongside Anna Wintour and the rest of the A-list celebs.
Not only has Taylor Swift not said a peep about tonight's Met Gala, but she also has been pretty mum on social media in general.
Fans are already distraught.
Because, yeah, they've been waiting.
Others joked that they definitely spotted her there tonight.
It's just a testament to Anna Wintour's unending fountain of youth. Right?
But still, why wasn't Taylor Swift not on the red carpet serving looks?
There are a number of reasons. Maybe she's done with press for awhile since Kim Kardashian produced the "receipts" to clear her husband, Kanye's, name concerning his offensive "Famous" lyrics about the pop singer.
Or maybe she's still licking her wounds from that Hiddleston breakup. It was a whirlwind romance that fizzled out almost as quickly as it started. And it did kind of start at the Met Gala.
There was no point in heading out, feeling salty about a breakup and watching your bestie, Selena Gomez, be everyone's new "relationship goals" on the red carpet.
Swift would have a better time with her cats.
Or maybe Taylor Swift was really busy doing something else. Swift is a working woman and did skip the 2015 Met Gala because of her 1989 tour.
If she drops a great album this summer, then we'll chalk that up as her excuse.