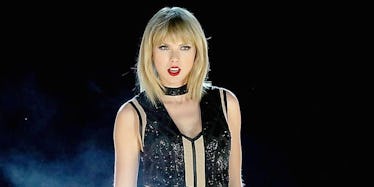 Taylor Swift Isn't At The Billboard Awards For The First Time In Forever
Getty Images
It's been the most-heated debate of the week: Is Taylor Swift going to the Billboard Music Awards? To the disappointment of literally every Swift fan on the planet, Swift opted to skip the show this year, keeping in line with her recent low-profile take on her celebrity.
So why isn't Taylor Swift at the Billboard Awards? In the past, the Billboard Awards (BBMAs) have been notoriously good to the pop star. In 2013, Swift opened the show with a dance party through the halls of the MGM Grand Garden that segued into a fan-favorite performance of her then-hit "22." That same night, she went on to win Top Artist of the Year for her album Red, according to Billboard.com.
According to the latest news from People magazine, Swift has been making a conscious effort to take some time for herself and her life away from the public eye. A source close to the star told the magazine that Swift was "feeling overexposed and like things were almost spiraling out of control. She's being low-key and secretive because it makes her happy."
Months earlier in 2016 in an interview with Vogue, Swift made clear her desire to live on her own terms for a little bit "without the pressure on myself to create something." She told the mag that she wanted to spend time focusing on "short-term goals."
"I would really like to take a little time to learn things," she said, adding that she wants to "be a well-rounded person who can make a good drink," and also someone with the ability "to save someone if they're drowning." She said that "CPR, all the various kinds of chest compressions" were the types of skills she wanted to really explore in this phase of her life.
In the week leading up to the BBMAs, news broke that Swift had reportedly settled into a new relationship with British actor Joe Awlyn. According to The Sun, which first broke the news about Swift's new romance, the relatively new couple has been keeping their relationship under wraps by "donning disguises while out and about." Elite Daily reached out to reps for both stars and has yet to hear back, and neither have publicly commented on the relationship as of yet.
According to The Sun, Swift has been renting a house in North London and has "gone to great lengths" to ensure the privacy her new partner deserves. A source told the site that Swift has "flown in via private jets and her security has made it a military-like mission to prevent her from being seen."
After the tumultuous media frenzy from her previous relationship with ex Tom Hiddleston, I can't exactly blame Swift for wanting a break from the limelight, no matter if she's taken a break to cool off or to keep a new relationship under wraps. She's one of the most sought-after celebrities in the business, and though her fame relies on her availability and visibility to the devoted fans and followers who helped catapult her to the forefront of fame, I think Swift's earned a well-deserved break.
There's always next year. Right?!