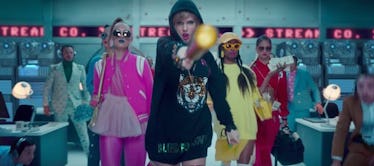 Taylor Swift Will Reportedly Perform At This Major Event Coming Up, So Get Pumped
YouTube
Taylor Swift has been a total wildcard lately. She's dropping songs, releasing music videos, and is still sort of nowhere to be found. I would love a little explanation about long-term goals from Swift, but she has left me lacking. The question of when will Taylor Swift perform next is about anyone's guess. I mean, seriously, if she did a pop-up performance at my local Trader Joe's, I don't think I would be surprised. Besides my neighborhood grocery store, the second most random prediction is that Swift will perform at the College Football National Championship on Jan. 8, 2018 in Atlanta, Georgia. Seriously, this is not a drill. A source told Entertainment Tonight,
She will headline a concert in Centennial Olympic Park during halftime of the game. It will be a free concert. ESPN has her booked for the event and has a massive deal to release new music from [her upcoming album] Reputation through its college football coverage this season.
Elite Daily reached out to Taylor Swift's team, but did not hear back by the time of publication. Taylor Swift and football go together like my mom and Coachella: it just doesn't work and sounds awkward. Actually, ESPN told ET that the reports of Swift performing at the College Football Playoff National Championship are "inaccurate." Hmm… very interesting. Note: They said "inaccurate," not completely false. This means the source from ET could be on to something. Here are four reasons why I think Swifty is cooking up something with the NCAA.
1. She's recently been obsessed with football.
I was just wondering why T. Swift has a sudden interest in football. On Sept. 2, Swift dropped her second single from Reputation, "Ready For It," during a Saturday night showdown between No. 1 Alabama and No. 3 Florida State. While fans were pumped, I was left feeling confused. I just didn't see the connection between Swift, college football, and "Ready For It." It just seems so random to the point where I'm thinking there must be a connection. ESPN also said in their statement,
We are pleased that Taylor chose ESPN and ABC's college football coverage as a platform to debut her new song '…Ready For It?' however, there is nothing more to announce at this time.
At this time? So, maybe there will be more in the future? I guess time will tell.
2. Swift's sponsors may provide an ulterior motive.
Swift's biggest sponsors are UPS and AT&T. Both of those companies are "the biggest NCAA Football advertisers on ESPN," the ET source added. Like anyone in the music business — it's all about that money, honey. While advertiser money isn't the sexiest reason to perform a show, it's definitely a legit one.
3. Taylor Swift will not perform during the Super Bowl halftime show.
The source from ET mentioned that Swift will probably never perform during the Super Bowl… at least while she has her endorsement deal with Coca-Cola. Pepsi is the very public sponsor of the Super Bowl, meaning that would be a conflict. Womp, womp. If Swift can't perform at one big game, she'll find another.
4. Taylor Swift is unpredictable AF.
Honestly, if Taylor Swift wants to be the next face of college football, she'll do it and she probably doesn't care what you think.
I guess we'll just have to wait and see if Taylor Swift will perform at the College Football Playoff National Championship. As always, Swifty will keep us guessing.