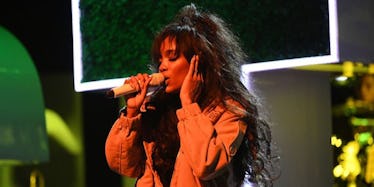 7 Things To Know About SZA, This Year's Breakout Star
Dia Dipasupil/Getty Images
It's that time of year again! Time for the best musical artists that MTV could bribe into showing up to come together for a night of drunken drama at the 2017 Video Music Awards. With Katy Perry hosting and rumors of Taylor Swift making a surprise appearance, it's guaranteed to be an interesting show. And just in case you care about the actual music part of the show, that should be good too, if breakout artist SZA has anything to say about it. The 26-year-old "neo-soul" singer/songwriter is a front runner for Best New Artist. But who is SZA? Here are a few things to know about the young rising star.
1. It's pronounced "Sizza."
If you take anything away from this post, let it be how to pronounce SZA's stage name. "Sizza" not "S-Z-A."
2. She signed with Top Dawg Entertainment almost four years ago.
SZA signed with Top Dawg Entertainment, the label that represents Kendrick Lamar, when she was just 23. But it took until June 9, 2017 before she released her debut album Ctrl.
3. She helped write songs for Rihanna.
If for some reason you doubt SZA's talent, look no further than Rihanna's latest album, Anti. SZA, alongside Tyran Donaldson and Rihanna herself, helped write and is featured on one of my personal favorite tracks from the album, "Consideration."
4. Her lead single, "Drew Barrymore," is pretty freakin' dope.
And if you listen closely, you can definitely hear the influence SZA had on "Consideration."
5. She's currently on tour.
If you'll be busy watching the Game of Thrones on Sunday night and can't catch SZA at the VMAs, you could always catch her at a live show. She's currently in the middle of her Crtl tour, and is performing in cities all over the United States through December.
6. She's collaborated with names like Travis Scott, Kendrick Lamar, James Fauntleroy, and Isaiah Rashad.
So yeah, SZA is kinda a big deal.
7. She's bringing her mom to the VMA's.
Awwww!
SZA is up against Khalid, Kodak Black, Young M.A, Julia Michaels, and Noah Cyrus for the Best New Artist award, so go vote if you want to! We can't let the Cyrus family reign forever, right?