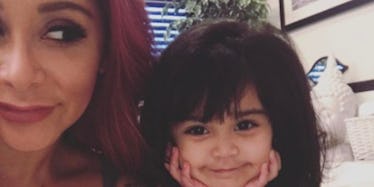 Snooki Shared A Pic Of Her 2-Year-Old Daughter And She Looks Just Like Her Mom
Instagram
Leave it to Nicole "Snooki" Polizzi to turn into the spray-tanned version of a Russian nesting doll.
The former "Jersey Shore" star shared a picture of her 2-year-old daughter, Giovanna Marie, and the two look like different sized versions of the same exact person.
Giovanna is Snooki's second child with husband Jionni LaValle. The couple also share 4-and-a-half-year-old son, Lorenzo Dominic.
It seems like Snook and Gi have a particularly close relationship, judging by their cheerleading Instas and matching faces.
Late last year, Snooki joined "Jersey Shore" bestie Jenni "JWoww" Farley on a trip down memory lane as they toured the house they stayed in season after season on the show. Their kids even got to take a peek at the site where reality television history was made all those years ago.
Snooki told People while she and JWoww were concerned with how "dirty" that house was, the opportunity to bring their children to see the place "where we met their daddies and our husbands... was a cool experience."
Snooki said she plans on telling her kids about her time on TV when they're old enough to hear the truth.
She confessed,
I don't care anymore. I mean, it's going to happen. It's inevitable. So when they watch it, I'll just be like don't do what mommy did. This is an example of what not to do.
JWoww agreed, likening the revelation to that of Santa Claus' true identity.
She told the site,
I don't know what age is going to be the appropriate age because younger and younger people are learning about Santa, people are learning about their parents' behavior.
Fair enough. If your early 20s are meant for making mistakes, the rest of your life is meant for gingerly revealing those mistakes to your kids, one by one.
It's a burden we all bear, just -- you know -- not televised.
Citations: Her Little Sidekick! Nicole 'Snooki' Polizzi Shares Adorable Photos of Mini-Me Daughter Giovanna (People)