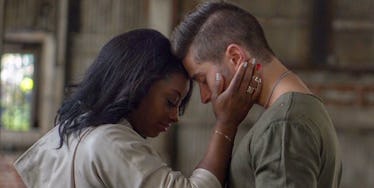 Simone Biles Is Totally Over Zac Efron In This Sexy New Music Video
YouTube
It might be too late for Zac Efron to finally confess his love for Simone Biles.
The 19-year-old Olympic gold medallist is starring in a new music video where things heat up pretty quickly.
In other words, Biles is showing off her sexiness... and her male counterpart in the video is NOT Zac Efron.
Hey, you snooze, you lose!
It looks like Simone Biles has the hots for 23-year-old Jake Miller.
OK, maybe she doesn't actually have a crush on him, but it sure seems that way.
In Miller's new music video for "Overnight," the Florida-born pop rapper stars alongside Biles as the two get awfully close in a sketchy warehouse.
Miller sings,
Baby, we can fix it overnight.
Throughout the music video, Miller attempts to reel Simone Biles in as he flexes his biceps and assures her that everything is going to be OK.
Zac, it looks like you've got some major competition, dude. As a matter of fact, I don't think there's a battle you can win here. Biles is long gone...
I mean, has her MOM ever been in the same room as both of you as you sung your heart out?! Doubt it.
Jake Miller spoke to People about performing his routine with Simone in front of her mom, saying,
Her mom was on set watching, and I wanted to make sure she didn't feel awkward. I kept asking her if she's okay with all of the close shots between me and Simone. At one point I messed with her and said, 'Okay, cool, the make-out scene is next.' Her mom is just as cool as she is!
Jake, I know you're just trying to keep the peace and all, but I don't think Simone's mom is the issue here...
Did you even call Zac to see if this was OK first? I'm just messin' with you, bro!
Check out the video above for a closer look.
Citations: Jake Miller Woos Simone Biles in Sexy New 'Overnight' Music Video (People)