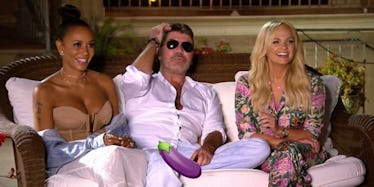 It Sure Looks Like Simon Cowell's Penis Slipped Out On 'The X-Factor'
ITV
Simon almost put the "X" in "The X-Factor" the other night.
Viewers of the show were left in hysterics after Simon Cowell appeared to get too excited at the judges' house stage.
But what looked like a penis or cheeky testicle poking out from his pants was actually his big toe.
He was sitting between Mel B and Emma Bunton when then apparent wardrobe malfunction took place.
Needless to say, peen or no peen, the world was enjoying the special guest appearance.
People literally had to double-take.
Hahaha had to look twice at this! Of all the places to put your foot @SimonCowell#whenyouseeit #xfactor pic.twitter.com/ycDORn2cbA — Sarah Lawrence (@sarahBijouClub) October 2, 2016
Even other celebs were getting on the banter bus.
It was quite a busy night for the judge. After penisgate happened, Cowell landed himself in hot water for telling a contestant she should take off her makeup so he could get to know the person behind it.
He said,
Samantha I wish we had met without what you think is your pop star image. With you I think we've had a bit of a mask put up. I'd almost like to see you without so much makeup. All I'm saying is I want to peel away the mask. Does that sound bad?
Both Mel B and Emma Bunton instantly threw shade at him for the comment and said women are "allowed to experiment" with makeup.
Obviously, his words didn't go down well with pretty much anyone.
For the first time ever, people wished they could be Simon Cowell so they knew how it felt to say:
Yep, eyes were rolling hard.
Sorry, Simon buddy, but you can't be saying these things in 2016.
It's a no from us. Great toe, though.