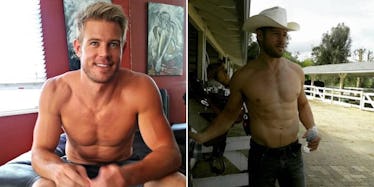 Sexy New Photos Of Hot Jock From '90210' Prove Men Just Get Better Looking With Age
Instagram
Trevor Donovan is no stranger to stripping down to barely anything.
The blonde-haired actor first popped onto my gaydar during his run on the CW series "90210" as Teddy Montgomery, a brooding "player" who turned out to be as gay as the day is long.
His character was one any LGBT member could relate to, as he struggled with his sexuality early on throughout the series.
It was just an added bonus for anyone watching that Donovan just happened to misplace his shirt a lot of the time that he was on screen.
While it's been years since his fictional high school days, the 38-year-old still finds himself with barely any clothes on pretty frequently. Not that there are any complaints here...
To prove men just get much hotter as they get older — and to reassure the world he's still got it going on — Donovan recently recreated a slightly nude photoshoot he did back in 2004, when he was 25 and babyfaced.
Donovan caption his Instagram comparison, "Then 2004 and Now 2017."
And like a fine bottle of wine, Donovan clearly looks much better with age. Just look at this 2009 to 2017 transformation:
Chalk it up to some fine lighting, but now, it appears his face has a little bit more definition to it and his arms (and the rest of his body) are sculpted in all the right places
And that butt... oh, don't get me started on that butt.
I should be immune to Donovan's charms by now, considering how often he posts these sexy pictures, but I'll be damned if I don't set aside a few minutes from my schedule to appreciate the utter glory in our midst.
These side-by-side photoshoot recreations seem to be a reoccurring theme on Donovan's social media accounts every year, but I petition these blast-from-the-past butt photoshoots to be a more frequent thing.
How else am I supposed to get through a rough day without a little Trevor Donovan TLC in my life?
Citations: 90210's Trevor Donovan Recreated His Decades-Old Naked Shoot To Prove He's Still Got 'It' At 38 (The Gaily Grind)