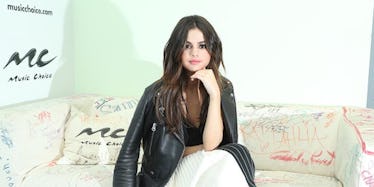 Selena Gomez Finally Opens Up About The Meaning Behind Her "Fetish" Music Video
Rob Kim/ Getty Images
The new Selena Gomez music video everyone and their hip mothers were waiting for finally came out on July 26 and we all said, "What? Huh? Why? An eyelash curler?" Then, we sat silently in front of our computer screens, dazed and confused. Now, the meaning of Selena Gomez's "Fetish" music video has finally been explained, but it's not what you think.
Gomez and music video director Petra Collins recently did an interview with Dazed Digital and it definitely clears some things up about this off the wall music video. Gomez and Collins explain "Fetish" is more about horror and less about sexual fantasies. "Um, do you think people would be shocked to know that 'Fetish' came out of our discovery that we are both avid horror fans?" explained Collins. "When I first heard 'Fetish,' I pictured it to the backdrop of horror. It's one of my favorite genres to make a female look strong."
Gomez told Petra at the beginning of the project she wanted it to be different and original. "I made it very clear to [Petra Collins] that I didn't see 'Fetish' how most people know the word at face value. When most people hear the word 'Fetish,' they think of S&M and all that sexual sh*t, but [Collins] didn't." Gomez then explained the song is about a "crazy and complicated" love. Who knew a horror-based music video could be based on love? How artsy.
Petra explained, "I love the video because it shows the very dirty, gross, and weird love you can have towards someone. This is how obsessive some people get and how they release. I'm obsessed with these weird ASMR videos. I think about how our bodies react to sounds and movement."
Gomez and Petra have created one of the weirdest pop music videos of all time, and the two go together like Bonnie and Clyde. Gomez even described Petra as though she were family, saying, "[Petra Collins] make(s) me feel more confident about the choices I make, like a sister."
I image the two will work together again and we are not mad about it. Bring it on, eyelash curlers. We get you.