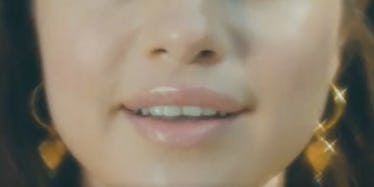 Selena Gomez "Fetish" Music Video Is Here And The Meaning Is Super Deep
Twitter
It's finally here and we are losing it. Selena Gomez's "Fetish" music video dropped today and it's intense. Gomez first gave us a taste with her epic mouth music video (you guys know the one), and had us waiting with bated breath for the real-deal. The video itself runs the gamut in terms of emotions, so now fans are wondering what does Selena Gomez's "Fetish" music video mean?
It's hard to say, since Gomez has not released a thesis breaking down the entire music video frame by frame. You can watch the "Fetish" music video below.
It's a lot to take in. Like, a lot, a lot.
Gomez has been teasing the release all week on her social media, giving us just enough still images and video clips to freak out. Plus, our standards were set crazy high after "Bad Liar" came out and changed us all forever. However, "Fetish" could not be more different from the playful romp that she displayed in "Bad Liar."
In "Fetish," there is a ton of dark imagery, all surrounding her mouth.
She eats things like broken glass...
An eyelash curler...
This bar of soap...
...And pink lipstick.
Objectively speaking and being nowhere near an expert on the topic, one could guess she is dealing with a fetish by putting items into her mouth.
One fan on Twitter explained the video like this,
Everything Selena finds she put in her mouth, because she has a fetish for that. She tries to push it out by trying to cut her tongue. But it didn't work, it comes right back. She tries to get rid of it but it won't work. So she's so angry and mad because of that. She can't help it. Just when we thought that she has a fetish for someone.
Honestly? Seems legit.
Another fan said,
The video is about mental health and society's standards, she has improved visually and her concepts on videos have been far superior When she eats the make up, spits the food, and snaps her tongue, it signifies the society's standards and people self harm
Of course, there is a lot more happening in the video, and the only other human who makes a cameo is Gucci Mane himself.
Gomez is filmed on the street carrying groceries next to a car crash, sitting in a room while the sprinklers go off. She then is seen rolling around in a freezer full of frozen peaches. Throughout the entire video, her expression is hard to read and seems to be a cross between torture, pleasure, and even humor toward the end.
For now, fans are just taking it all in, and we can't wait to hear what Gomez has to say about it.