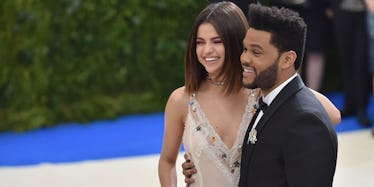 Selena Gomez's Mom Wrote The Sweetest Note On The Weeknd's Instagram Pic
Getty Images
Everyone already knows Selena Gomez and The Weeknd totally won the 2017 Met Gala.
For their red carpet debut, Abelena showed up arm-in-arm, looking gorgeous and totally in love.
Both Selena and The Weeknd, whose real name is Abel Tesfaye, posted photos from the night to their Instagram accounts, and it's no surprise they basically won social media this week, too.
In fact, they even got Selena's mom's seal of approval.
Selena started by posting a candid of her gala prep with Stuart Vevers, creative director of Coach, and her "Coach crew."
Next, the 24-year-old posted a full-length shot in her gorgeous dress on the red carpet, adding another shoutout to Coach in the caption.
Then there was this glamour (solo) shot, which garnered 5.8 million likes.
Finally, Selena gave her 119 million followers what they really came for -- a couple pic.
This un-captioned photo has over 6.8 million likes and counting.
But it was The Weeknd's post that caught the eye of one very important follower: Selena Gomez's mom, Mandy Teefey.
Just like moms everywhere who can't help themselves from commenting on their kids' prom photos the next day, Mandy took to Instagram to express her approval of Abelena's Met Gala debut.
Among the over 30,000 comments The Weeknd's pic received, Mandy Teefey -- founder of Kicked to the Curb Productions, which produced the popular Netflix hit "13 Reasons Why" -- reportedly wrote,
Glowing, smiling, looking health and equal love. Mama is happy XO
Everyone knows mama's opinion is the one that really matters. Let's be honest, if the entire internet was shipping this couple, but Selena's mom wasn't a fan, it would be doomed. Luckily, we don't need to worry about that.
And before you go thinking the "Hands To Myself" singer is cringing like a typical millennial who would rather their parents stay off social media, take a look at the shoutout Selena gave to her mom, with whom she co-produced "13 Reasons Why," a few months back.
Yep, Abelena's romance shows no signs of stopping anytime soon now that the social media queen herself has the official social media seal of approval of one very important person.
Citations: Selena Gomez's Mom Totally Approves of Her Relationship with The Weeknd (Cosmopolitan)