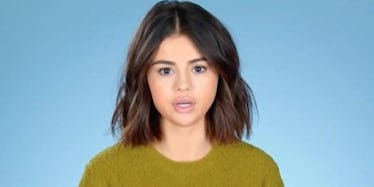 Selena Gomez Got Super Emotional During The 'Hand In Hand' Hurricane Relief Telethon
YouTube
Selena Gomez and a huge group of celebrities got together last night, Tuesday, Sept. 12, to take part in the Hand in Hand: A Benefit For Hurricane Relief telethon to help raise money for the victims of hurricanes Harvey and Irma. The telethon was kicked off with a moving performance of "Lean On Me" from Stevie Wonder, who gave an empowered speech about climate change while he had the stage. Beyoncé, Justin Bieber, Drake, Nicole Kidman, Reese Witherspoon, Kerry Washington, and many others also took part in the telethon, many of them giving pre-recorded speeches just like Gomez. Selena Gomez's Hand in Hand telethon speech about a family that lost their lives trying to evacuate Texas made the singer visibly tear up. In the pre-recorded speech, Gomez said,
August 27: Seven members of the Saldivar family try to escape the rising flood waters. Their van is swept into the bayou. Only Sammy Saldivar manages to survive. I come from Grand Prairie, about 250 miles away from the Saldivars' home. Their story affected all who heard it. And no matter who we are, the differences we have suddenly did not seem to matter. Since that day, we have joined together. Neighbor helping neighbor without stopping to think about race, religion, or anything else. Ricardo Saldivar has spoken out about his brother's escape and what happened to his beloved family. He said, 'I know they went to heaven holding hands.' And if we are going to get through all the storms that confront us, that's how we are going to do it — together, hand-in-hand.
In the video, you can see Gomez begin to cry as she tells the tragic story of the Saldivar family. As Gomez said, she grew up in Texas, about 250 miles away from Houston, so it's no wonder this telethon hits close to home for the singer. Demi Lovato, also a Texas native, performed "With A Little Help From My Friends" with Brad Paisley, Darius Rucker, and CeCe Winans from the Grand Ole Opry House in Nashville during the telethon. And Beyoncé, who was born and raised in Houston, gave a powerful speech about helping the victims of natural disasters. In the pre-recorded video, she said,
During the time where it's impossible to watch the violence or racism in this country, just when you think it couldn't possibly get worse. Natural disasters take precious life, do massive damage and forever change lives, leaving behind contaminated waters, flooded hospitals, schools and nursing homes. And countless families are now homeless. In my hometown city of Houston, people need food, clothing and cleaning supplies, blankets, shoes, diapers and formula for babies and of course, clean water. The elderly need wheelchairs and kids need books and toys so they can continue to dream. Natural disasters don't discriminate. They don't see if you're an immigrant, black or white, Jewish or Muslim, wealthy or poor. It doesn't matter if you're from Third Ward or River Oaks, we're all in this together. Seeing everyone of different racial, social and religious backgrounds put their own lives at risk to help each other survive, restored my faith in humanity. True healing isn't helping. Please give what you can. The effects of climate change are playing out around the world every day. Just this past week, we've seen devastation from the monsoon in India and 8.1 earthquake in Mexico and multiple catastrophic hurricanes. Irma alone has left a trail of death and destruction from the Caribbean to Florida to southern United States. We have to prepared for what comes next so tonight we come together in a collective effort to raise our voices, help our communities, to lift our spirits and heal.
Oprah Winfrey, Justin Timberlake, Usher, Blake Shelton, Joe Jonas, and Stephen Colbert are just some of the other celebrities who came out to help take calls and give speeches during the Hand in Hand telethon, which ended up raising over $44 million for those affected by the hurricanes.