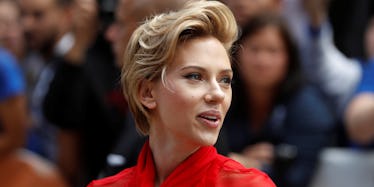 Scarlett Johansson Reveals The Type Of Man She Wants To Date After Split From Ex
REUTERS
Following her split from estranged husband Romain Dauriac, actress Scarlett Johansson is officially single.
The 32-year-old was reportedly living separately from Dauriac since last summer, but when she stepped out at the Women's March in Washington DC in January, Johansson all but confirmed the split by not wearing her wedding ring.
So, who's the next dude in line to date Scarlett Johansson?
Well, Monday, "The Avengers" actress joined the set of Howard Stern's SiriusXM radio show to talk about her dating life and the type of man she wants to date after her split from Romain Dauriac.
Speaking with Stern, the 32-year-old said,
I'm on guard because I have a young daughter. That's something I'm more concerned about.
Johansson's daughter, Rose, is just two years old.
The fact that Scar Jo is "on guard" didn't deter Howard Stern, 63, from trying to pique her interest by naming a few eligible bachelors, such as John Stamos, David Spade, Orlando Bloom and Louis CK.
Interesting group, I must say.
Going a little more in depth about the type of man she might be looking for in the future, Johansson told Stern,
A lot of comedians I know have a dark side though. I don't need any darkness. I think I've got a lot on my plate right now, but I'll let you know.
The 32-year-old actress, who has dated Ryan Reynolds, Josh Hartnett and Jack Antonoff, did name at least one guys she has the hots for right now, and you're going to be shocked when you read the name.
Johansson said,
[Gordon Ramsay is] the hottest guy right now in the world.
Uh, what?
Apparently, Scarlett Johansson also has a thing for celebrity chef and television host Anthony Bourdain.
Speaking on her apparent predilection for chefs, the actress said,
There's a running theme.
To be fair, I'd do anything to spend the day with Anthony Bourdain, too.
Citations: Us Weekly