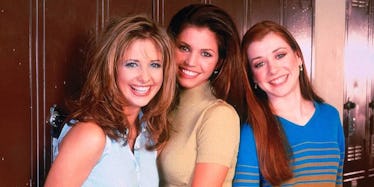 Sarah Michelle Gellar's Letter For 'Buffy' 20th Anniversary Is So Emotional
REX/Shutterstock
In an industry that just last year deemed a badass television adaptation of the Nancy Drew series "too female" for television, in a country where the majority of citizens are just that, shows like "Buffy the Vampire Slayer" are the unlikely heroes of many a childhood.
No one knows this better than Sarah Michelle Gellar, who debuted her career-making role as Buffy Summers 20 years ago today.
In a post on Instagram, the 39-year-old praised the "privilege to bring Buffy to your TV screens for the first time," especially considering what her portrayal meant to young women watching.
She wrote,
While we knew the potential, I don't think any of us saw the lasting impact our show would have. As an actor, you wish for that one role where you can leave your mark and forever be remembered, with Buffy I got so much more. She's a feminist challenge to gender hierarchy.
Buffy was smart, strong, witty and complex. Sarah thanked creator Joss Whedon "for trusting me to give life to one of the greatest female characters ever created."
She also shouted out co-stars Alyson Hannigan, David Boreanaz, James Marsters and Michelle Trachtenberg. Alyson Hannigan wrote a celebratory tweet, shouting out Joss when she found herself at a loss for words.
Joss replied, passing the buck right back to Alyson because, frankly, this is an emotional moment.
In the series, the cast kept alive the story that was introduced to the world in the film that preceded it. Sarah thanked producer Gail Berman "for always believing there was a show in that movie," though the tale of Buffy and her bloodthirsty enemies didn't ride an express track from film to television.
She explained,
It was a long and challenging road to get there. First the movie, then a passed over pilot presentation, and eventually a mid season time slot on a little known network. That first season, we liked to think of ourselves as the little show that could. While we knew the potential, I don't think any of us saw the lasting impact our show would have.
Sarah ended her tribute with some gratitude for the fans, who are just as grateful for her contribution to the world of kickass lady TV legends.
She wrote,
Thank you to all of you, the fans. We made this show for you, and your unwavering support has kept this show going long past our seven years. You are everything. And always remember...'if the apocalypse comes, beep me.'
Will do.
Citations: Sarah Michelle Gellar Writes Emotional Tribute to Buffy the Vampire Slayer on the 20th Anniversary (E!)