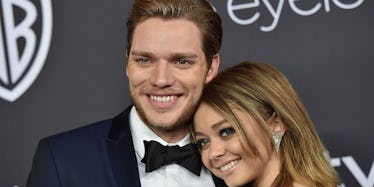 Who Is Sarah Hyland's Boyfriend? The 'Modern Family' Star Is Dating Dom Sherwood
Getty
Haley Dunphy may have had her fair share of boyfriends throughout the run of Modern Family, but in real life, Sarah Hyland has been with one guy for nearly 3 years now. The actress only has eyes for one man, and together they make quite the TV power couple.
Sarah first began dating actor Dominic Sherwood in 2014 and they've been an adorable couple ever since.
Of course, we all know Sarah from her hit sitcom Modern Family, but Dominic is also on a pretty buzzy series, MTV's Shadowhunters: The Mortal Instruments. He even won an MTV Fandom Award last year for his part on the show.
Get to know more about Sarah Hyland's boo with the details I dug up about Dominic Sherwood below:
1. Unlike Jace, he has an accent.
Although Dominic's character on Shadowhunters Jace Wayland speaks with an American accent, Dom is from England and has an English accent. His natural voice surprises most fans of the MTV series.
Dominic was born in Kent, England on February 6, 1990. He's 27 years old.
2. His eyes are two different colors.
You may not realize this unless you look very closely at his photos, but Dominic has some very interesting eyes: one of them is blue and the other is brown. Dom is one of a handful of celebrities to have a ocular condition known as sectoral heterochromia. Stars like Mila Kunis and David Bowie also had heterochromia.
3. He starred in a Taylor Swift video.
Dominic isn't exactly a new face to all the Swifties out there. He co-starred with Taylor in her 2015 music video for "Style," as a stand-in for what was obviously meant to be Taylor's ex Harry Styles.
4. He's channeled Mick Jagger.
One of Dominic's first-ever roles was playing a young Mick Jagger in the 2012 drama Not Fade Away. It was his first film role and set him up to take on his bigger movie role as Christian Ozera in 2014's Vampire Academy.
5. He and Sarah have a bunch of pets.
I guess Dominic and Sarah just have too much love to give! The couple has two dogs, named Boo and Barkley, and a cat named Rajah.