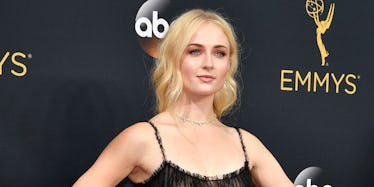 Sansa Stark's Incredible Emmys Look Proves She Wants To Be Just Like Daenerys
REX/Shutterstock
Sansa Stark may not have been born into the most glamorous family in Westeros, but that doesn't stop her from having a night on the town.
On the red carpet of the 2016 Emmy Awards, actress Sophie Turner wore a long, blonde braid that was a far cry from the red hair and half-pony styles she usually wears on "Game of Thrones."
Hair stylist Christian Wood teased Turner's hair style on Instagram, just as the red carpet began.
Interestingly, platinum is actually pretty close to Turner's natural color. The actress has told media she's a blonde at heart (and at her roots). However, it's the ginger hair that has made her famous.
The braid wasn't the only dramatic style Turner's style team attempted for the Emmys, either. For a pre-Emmys party, Wood knotted the star's hair into a princess bun at the crown of her head, topped off with an $18 Jen Atkin for Chloe and Isabel clip.
There's no word on how Emilia Clarke feels about Turner's hair, but one thing's for sure: Daenerys wouldn't be pleased about someone stealing her style -- and we all know how she deals with stressful situations.
Citations: Bustle