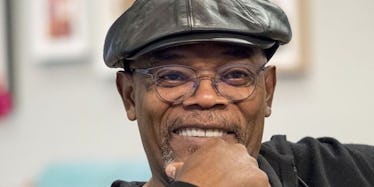 Samuel L. Jackson Just Admitted He Watches Anime Porn And Nothing Was The Same
REX/Shutterstock
Have you ever wondered how Samuel L. Jackson unwinds after a long day of being an all-around badass? Well, wonder no more.
The legendary action star just revealed he is a big fan of anime... specifically one very kinky subgenre.
That's right, y'all, Samuel L. Jackson is into hentai!
In case you aren't familiar with that term, it's basically a reference to any type of anime porn, ranging from tame displays of sexuality to incredibly graphic and grotesque.
Jackson had no shame in admitting his love for the genre in a recent video interview with Wired.
Check out the clip of Jackson cracking up after admitting he likes hentai.
That segment is definitely the best part of the video, but there are some other gems too.
In the full video, Jackson reveals what he inscribed on his purple lightsaber in the "Star Wars" movies.
Though it might seem like this passion for anime is coming out of left field, Samuel L. Jackson has actually been an avid fan of Japanese animation for years!
Fandom site Japanator pointed out in 2009 that Jackson was always really into comic books, and after he took a trip to Japan, he got into anime as well.
In fact, he grew to love anime so much, he took a very hands-on role in getting the 2007 anime series "Afro Samurai" made, in which he starred. He also spoke about his dream of creating a whole block of anime shows for a station that would welcome it.
I guess Jackson's love for anime eventually expanded outside of the basic stuff to also include an interest in some of the more eyebrow-raising facets of the genre.
All I'm going to say is, if you somehow find yourself in the proximity of Samuel L. Jackson's computer, I probably wouldn't suggest checking his history if you're easily freaked out...
Citations: Samuel L. Jackson Answers the Web's Most Searched Questions (Wired Youtube)