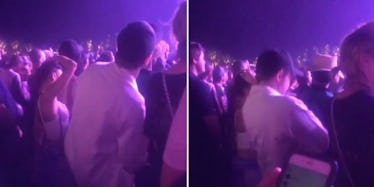 Robert Pattinson Dancing To Drake At Coachella Is Actually F*cking Terrible (Video)
Coachella seems to bring out the worst in people. First, it was Justin Bieber throwing a hissy fit that got him kicked out of the event.
Now, it's Robert Pattinson busting out some legitimately terrible dance moves.
Obviously, those two examples aren't on the same level, but just roll with me here. Pattinson was in attendance at Drake's performance during the festival when he broke out into what can only be described as a mild seizure.
It's unclear what Pattinson's rumored fiancée, FKA twigs, thought of his dancing.
But, it's probably safe to say she wasn't particularly proud to be standing next to her man during his little palsy attack.
It's also probably safe to say Pattinson should seek immediate medical attention.
Drakin with rob pattinson last night pic.twitter.com/mhEh5DaqOz — breezy. (@breeaawwnnaa) April 13, 2015
Citations: Robert Pattinson Dancing to Drake at Coachella Is the Most Amazing Thing Youll See All Day (Yahoo)