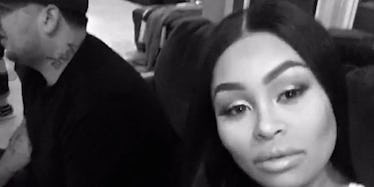 Rob Kardashian's New Neck Tattoo Might Be Permanent PDA For Blac Chyna
Instagram
Rob Kardashian may have just made his love for Blac Chyna permanent with some fresh ink.
According to the reality star's latest Snapchat, it looks like Rob got a neck tattoo to honor his fiancée.
WOAHHHHH, they better never break up now, or that will be awkward.
In Blac Chyna's story, she added a black and white video of her sitting with Rob.
He's not even looking at the camera and the shot is a bit blurry, but it's enough to see that Rob has a new tattoo on his neck.
WHAT THE HECK IS THAT, ROB? WHAT DOES IT MEAN?
According to the Daily Mail, the tattoo may spell out "Anjila" which is Chyna's real name (Angela) in Arabic.
On the other hand, TMZ believes the tat spells Aniyla, which is rumored to be the name of their baby girl.
Let's take a closer look at Rob Kardashian's neck tattoo, shall we?
When you flip the image back the right way, it's easier to make out the tat.
Uh, I'm still not positive what it says, but Daily Mail and TMZ both had great guesses.
Hopefully Rob uploads a closer, clearer photo soon because I want to see the art on this bb's neck.
Citations: Rob Kardashian Neck Tatoo (Daily Mail), Rob Kardashian Tattoo Blac Chyna (TMZ)