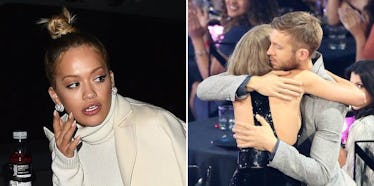 Rita Ora Gets Real About Ex-BF Calvin Harris' Twitter Fight With Taylor Swift
REX/Shutterstock
Hop off Rita Ora's ass, people.
The "America's Next Top Model" host appeared on Thursday night's episode of "Watch What Happens Live with Andy Cohen" alongside "Bachelor" star Nick Viall.
Despite Nick's actual televised dating drama, Rita was the one being roasted for her past.
One viewer asked her opinion on ex Calvin Harris' Twitter feud with Taylor Swift regarding the credit the pop queen attempted to take for writing Calvin's "This Is What You Came For."
Rita said,
We're good friends. The thing is, I don't keep grudges with anybody. Everybody uses social media how they want. I choose not to, so that's just my personal way to express myself, but everyone does their own thing.
Diplomatic, RO. Very diplomatic.
Another viewer needed to know whether Rita and Justin Bieber planned on collaborating on a song any time soon and, if not that, some good old fashioned doin' it.
She explained,
We're just friends. Just musicians vibing… We had a few drinks, we were just kind of like jamming out. But you never know, I mean, I have so much love and respect for him. So, it would be a good idea! Let's put it out in the energy!
Sure, yes. Put out that electric wizard energy.
Andy himself needed to know whether it's weird for Rita to see famous exes in magazines, but joke's on him because what even is a magazine?
Rita shared,
I don't really read magazines anymore that much, but to be honest, I think it's kind of like, yeah, obviously… But a usual breakup you don't really see your ex all over the place. But, you know, you just kind of take it with a pinch of salt and keep going with your own life and make the most of what you are.
Amazing advice. Rather than reflect on that too long, another viewer asked whether Rita had ever F'ed former One Direction member (and current boyfriend of Gigi Hadid) Zayn Malik.
She answered,
I'm getting completely roasted right now for no reason… [Nick's] had four seasons of finding love and I'm getting scrutinized for who I'm dating! No way is this happening!
YES, RITA, YES.
Nick, alternatively, just sat there with the same shit-eating grin he'll probably wear when he proposes to the winner of "The Bachelor" only to follow it up with a quick, "Psyyyyyyyyyyyych!"
Citations: Rita Ora Comments on Ex-Boyfriend Calvin Harris' Twitter Feud With Taylor Swift and Zayn Malik Romance Rumors (E!)