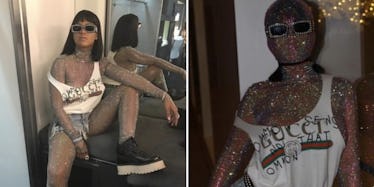 Rihanna Wore A Glammed-Out Face Mask To Coachella And Pulled It Off Flawlessly
Instagram
Every celebrity is trying to have the most eye-catching, gorgeous outfit for Coachella... but obviously none of them can hold a candle to Rihanna. The singer showed up to the music festival over the weekend covered in crystals. And I mean... literally covered head to toe in crystals!
RiRi was truly beautiful, like a diamond in the sky, in a rhinestone silver bodysuit and face mask. Rih completed the look with rhinestone sunglasses, cutoff jean shorts, and a Gucci tank top with the words "Common sense is not that common" written on it in a marker.
Rihanna also gave fans a look at what the wild outfit looks like without the mask covering her face.
This glammed-out, otherworldly look seems to be perfectly in line with the Rihanna's new aesthetic. Rih just completed filming her role as a fashionable, shape-shifting alien for the upcoming "Valerian and the City of a Thousand Planets," and I think this Coachella look definitely feels inspired by the out-of-this-planet decadence of her character.
It's also reminiscent of one of Rih's most iconic look's ever, when the singer wore a see-through gown completely made of Swarovski crystals to the CFDA Awards in 2014.
That look also led to one of the best Rihanna responses (Rihsponses) that has ever been recorded, when she told reporters that seemed to be uncomfortable with her revealing gown that she's completely covered up... in Swarovski crystals.
Of course, the new Coachella look is a much more modern and futuristic version of the more elegant 2014 red carpet look. Still, it's clear to see how the two iconic Rihanna looks are connected.
Rihanna clearly has a thing for these shimmery, head-to-toe, crystal-covered looks, and I'm pretty sure everybody in the world with eyes loves them as well! Keep the decadent, high-fashion, crystalline looks coming, Rih!