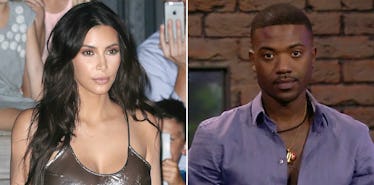 Ray J Called Kim Kardashian A 'Player' And Said She Cheated On Him
REX/Shutterstock
Yo Ray J, can you let Kim Kardashian LIVE?
The 35-year-old singer had a lot to say about the reality star (and his ex-girlfriend) on Celebrity Big Brother.
Now that Kim Kardashian has fully returned to social media, I guess Ray J took it as a free pass to shit on her.
Ex-boyfriends are the cutest, right?
On the latest episode, Ray J was asked about his romantic relationship with Kim Kardashian from 2003 to 2006.
Singer Stacy Franci fueled the fire and told Ray J she thought Kim K was "really really" in love with him. Ray J responded to the comment,
Nah, but she was a player though.
Oh. OK then.
Francis defended Kim and told Ray J,
She was not a player. She was crying her eyes out over you!
DESTROY HIM, FRANCIS. RIP HIM TO PIECES. You mess with Kim K, you mess with me.
Ray J fired back and told Francis,
Put it like this, we were both players. We were both cheaters.
OK, RAY J. WE GET IT. YOU HAD KIM FIRST. WE ALL KNOW WHAT HAPPENED -- YOU TAPED IT, REMEMBER?
My girl Francis (LYLAS) continued to stick up for Kim. She told the singer,
I don't believe that about her... because I remember her being very heartbroken over you. I think she really loved you very much.
Just take it, Ray J. EMBRACE THE LOVE.
According to Entertainment Tonight, Ray J also said he hasn't seen Kim Kardashian since their split in 2006 or the release of their sex tape in 2007.
However, he did say he listens to Kanye West's music "all the time." I don't blame you, man. It's good stuff.
This isn't the first time Ray J mentioned his ex on the show. During Tuesday's introductions, Ray J said,
People wanna know about the sex tape with me and Kim Kardashian. Order it, put some money in my pocket.
Tell us how you really feel!
Kim Kardashian has not yet commented on her ex's remarks and I don't think she plans to anytime soon.
Citations: Ray J Calls Kim Kardashian A Player (ET Online)