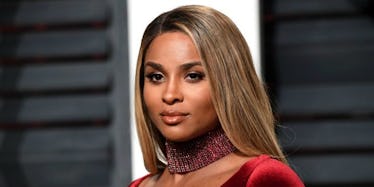 Pregnant Ciara Got In A Car Accident While Driving In LA And There's A Video
REX/Shutterstock
Earlier this week, we were talking about Ciara's incredibly sexy pregnant photo shoot.
Now, I have the unfortunate duty of telling you about the car accident a very pregnant Ciara was reportedly involved in.
According to TMZ, Ciara, who is in her third trimester, was driving a white Mercedes SUV when she tried to make a left turn and a grey Volvo SUV rammed into the front passenger side of her car.
Apparently, when police and fire department officials arrived at the scene of the accident, Ciara was holding her shoulder and her chest.
However, the 31-year-old pop princess was reportedly talking on her phone after the incident and walking around without the help of anyone else.
It appears Ciara is going to be OK, but this is extremely frightening news.
Naturally, fans on social media are sharing well wishes for the "Goodies" singer.
Ciara posted an Instagram picture around the same time news broke of her accident.
Ciara recently opened up about her relationship with her husband, Seattle Seahawks quarterback Russell Wilson, during an interview with Harper's Bazaar.
Speaking on her man, she said,
When you know they're going to be your champion, always in the corner…
The 31-year-old also spoke about her ex, rapper Future, with whom she had a very public split.
Ciara said,
If someone's not supporting you and your vision and your dream — whether it's your relationship partner, your friend, whomever — then you've got to make sure to keep it moving. If people aren't lifting you up, even if you're the strongest person in the world, eventually it does chip away at you. You don't even realize that you're losing yourself. And that's the scariest place to be in life. I don't want to lose myself. I love myself too much. I love life too much.
Preach, girl!
Russell Wilson's wife did end on a positive note, though, speaking about how happy she is at this point in her life.
She said,
I'm just super excited about this time in my life. Like, Oh my gosh, I can see my son running around, and soon it's going to be two of these creatures running around! Our hands will be full of non-stop action.
Get well soon, Ciara!
Citations: CIARA IN L.A. CAR ACCIDENT (TMZ)