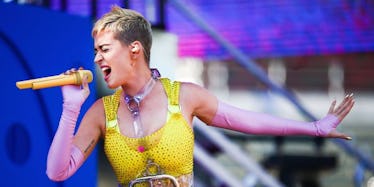 People Are Pissed At Katy Perry Over This Ad She Made For Her Tour
Rich Fury/Getty Images
Katy Perry is getting heat from fans for an ad she made for the Australian leg of her Witness tour.
In the short 30-second video, she tells her Australian fans that Myer One (an Australian department store chain) will be giving away 8,000 tickets to her tour. But it's the end of the ad that has people upset.
Her dog, named Nugget, is featured in the video with her. She says,
Hello Myer One members. I'm Katy Perry, and I'm so excited to be bringing my Witness tour down under. Thanks to Myer One, you're the first to know that you could win tickets. In fact, Myer's giving away 8,000 of them. Download the Myer One app for all the juicy details of terms. OK, Nugget, it's time to get your puppy passport.
Then she caps it all off with,
Let's go chase some koalas, Nugget.
Since Australia's koala population is at risk of becoming endangered, Australians did not take this comment lightly – especially since koalas are often attacked by other animals.
Dogs attacking koalas are actually a massive problem in Australia, according to Queensland's Department of Environment and Heritage Protection. The department's site says,
On average, approximately 110 koalas are attacked and killed by dogs each year. Records indicate that between 1997 and 2008 the Department of Environment and Heritage Protection's (EHP) Moggill Koala Hospital and the Australian Wildlife Hospital at Beerwah admitted around 1400 koalas that had been attacked by dogs. Most dog attacks are fatal, making dog attacks the third most common cause of death after disease (relating to habitat loss) and vehicle strikes.
Given those facts, it's fair to say the Myer One ad was insensitive at best.
The chain responded to the concerns of people online and are now reportedly removing the "let's go chase some koalas" line out of the ad, according to Twitter.
A lot of fans spoke out against the ad, saying Perry's comments were ignorant of the issue at hand.
To be fair, they were most likely scripted and Perry probably wasn't aware of the issue. But being an Australian company, Myer should've had to the foresight to know the ad would offend a large group of viewers.
Yikes. It sounds like Australia isn't too excited for the Witness tour.