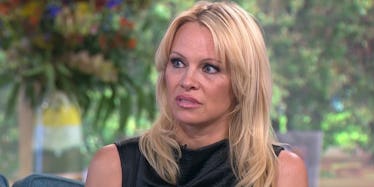 Pamela Anderson Wants Men To Stop Watching Porn And Have 'Better Sex'
YouTube
"Baywatch" icon Pamela Anderson has been very vocal about a wide variety of topics lately.
First, the 49-year-old star and former Playboy model opened up to US Weekly about her disapproval of "those stupid dating apps" like Tinder and Bumble.
She even spoke about how she urges her 18-year-old son, Dylan Jagger Lee, to have traditional face-to-face interactions with women instead of using mobile apps.
Pamela Anderson continues to speak her mind -- this time about pornography and the damaging effects it has on society.
While some of us are able to watch porn and stay true to who we are, Pam feels like certain people are becoming addicted to it. As a result, she feels that porn has swayed people's perception of what real sex is supposed to look and feel like.
In a recent interview for ITV's "This Morning," Pamela Anderson said,
There is so much access to porn, people are becoming desensitized and things are getting weirder and stranger. We're not prudes. We're not saying we want no sex, we're saying we want better sex.
I get the sense that Pam feels like porn has watered down the true value of sexual intercourse and in many ways, she's right.
While we're unable to see how other people choose to live their sex life, it's no secret that a lot of the pornography available at society's fingertips has played a significant role in real-life sex.
Anderson continued,
Have you ever been treated like a porn star in bed? It's not nice. I've been spat on and called nasty names. People think I am wild and crazy... I know I am part of the problem as I have posed for Playboy and had a sex tape stolen from my house.
Back in 1995, Pamela Anderson had a sex tape with her then-husband Tommy Lee. The tape, which was filmed during their honeymoon, was stolen from her home and put in the hands of a video distribution company she later sued.
Overall, Anderson just wants people to take more responsibility for their actions and learn to respect each other without using the influence of porn as an excuse for their outlandish behavior.
It's all about self-regulation. You've got to take time out and look at your own behavior.
So, what's a woman with this mindset tell her two sons? During her interview for ITV's "This Morning," Pamela Anderson opened up about the advice she's given to her sons Brandon, who is 20, and Dylan, 18, saying,
I've spoken to them about it, and they have girlfriends. I tell them that if they disrespect them, they are disrespecting their mother.
It looks like Pam's boys are on track to set themselves apart from the rest.
Check out the clip above!
Citations: Pamela Anderson Thinks Porn Ruins Sex: 'I've Been Spat on and Called Nasty Names' in Bed (US Magazine)