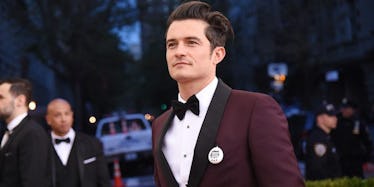 Orlando Bloom Went Paddle Boarding Again But This Time With A Mystery Woman
REX/Shutterstock
If Orlando Bloom isn't going to show his penis while paddle boarding, then honestly what's the point of paddle boarding at all?
On Monday, photographers captured a few pictures of Legolas on a vacation in St. Barts. He's shirtless, he's doing water sports, he's bonkers good looking while he does shirtless water sports.
That's really all the info you need to know to enjoy this.
No, Legolas, you have MY bow. ;)
Noticeably missing was Katy Perry, whom Bloom recently split with in what has to be the world's most amicable breakup of all time.
Orlando has clearly gotten over the breakup pretty easily.
During his time on vacation he was spotted with a new mystery woman (or two).
This paddle board trip is super problematic for two major reasons.
1) How does Orlando Bloom keep that hot hot hot body toyt toyt toyt? At 40, Bloom looks better than most people will ever look. Which devil did Orlando cut a deal with and does anyone know if he is taking more requests?
2) WHERE IS THAT DYUCK, 'LANDO!?!?!?!?! THE LITERAL ONLY REASON WE GET EXCITED WHEN YOU PADDLE BOARD IS BECAUSE IT MEANS WE GET TO SNEAK A PEEK AT DAT WANG.
That's the Orlando Bloom we know and love!
The Orlando Bloom who isn't afraid of showing us the profile of his penis. The Orlando Bloom who lets his log go for a roll when the temperature is right. The Orlando Bloom who makes us all question whether or not one is supposed to throw some SPF 50 on his wang before going on a "Pirates of The Caribbean" residuals-financed birthday suit beach trip.
Orlando Bloom doesn't even just go balls-out when he's by nice soft things like water.
When Orlando Bloom sets his mind on going nude, he GOES NUDE.
That's him walking around near sharp bushes and rocks. That is a level of bravery that is only matched by military servicemen.