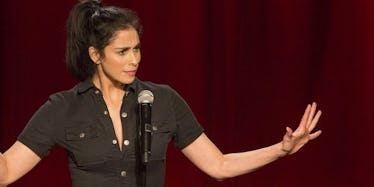 There's Only One Woman On The 2017 Highest-Paid Comedians List & We're Not Laughing
Netflix
It's never been easy for women in comedy to get the same kind of respect afforded to their male counterparts. It's the reason that tiresome and offensive question "Can women be as funny as men?" is still somehow regularly brought up to female comedians, and the reason every late-night host on a major, non-cable network looks the same. And to highlight comedy's boys' club even more, look no further than Forbes' Highest-Paid Comedian List for 2017, which consists of nine men and only one woman.
Yep — Amy Schumer is the only female comedian to appear on the list this year, coming in the middle at number five. It's not surprising Schumer is probably the highest-earning female comedian of the year, given her wide array of big-budget projects over the past year (touring dates, her Comedy Central show Inside Amy Schumer, her feature film Snatched, and her Netflix special The Leather Special), but it is pretty jarring to not see any other women on the list.
Jerry Seinfeld tops the Top Ten list thanks to inking a couple Netflix specials, a development deal, purchasing the library of his Comedians in Cars Getting Coffee series, and of course, getting those sweet, sweet Seinfeld residuals. Other ubiquitous comedians Chris Rock, Louis C.K., and Dave Chappelle round out the Top Five with Schumer, followed by Kevin Hart, Jim Gaffigan, Terry Fator, Jeff Dunham, and Sebastian Maniscalco.
Of course, it's not really surprising to see most of those male comedians on the list, but are there really no women in comedy other than Amy Schumer who are making the same amount of money as the successful men in the field? Forbes does point out that Ellen DeGeneres would have been included on the list, except the publication chose to separate hosts and comedians into different categories.
Where are the legendary female comedians who are also touring, acting, and getting comedy specials just like everyone else on the list: Sarah Silverman, Maria Bamford, and Tig Notaro are a few names that immediately come to mind.
Unfortunately, this lack of representation of women on the Forbes Highest-Paid Comedians list is nothing new. Amy Schumer was also the only woman on the 2016 list, and her appearance was actually the first time the list wasn't exclusively male comedians since Chelsea Handler was the sole woman back in 2010.
Luckily, it seems like things are starting to get better for women in comedy, so hopefully we'll see some more ladies on this list next year.