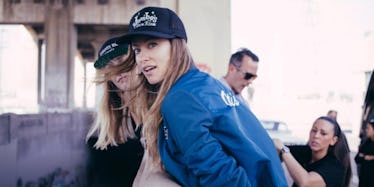 Olivia Wilde Stepped Out Looking Amazing Only 6 Days After Having A Baby Girl
Instagram
The world isn't a fair place. I know this, you know this. It's just something we all deal with every day.
But then sometimes you get a really healthy reminder of that, should you forget for a second.
For instance, I look the way I look, and Olivia Wilde looks like this just six days after she gave birth.
Like, what business do you have looking this good less than a week after giving birth, Olivia Wilde?
Meanwhile, I have never given birth and I pretty much look like I got caught in a street sweeper most days.
Wilde wore a comfy light brown shawl with dark jeans, completing her outfit with a black bag.
Wilde and Jason Sudeikis welcomed their second child Daisy Josephine on October 11.
The engaged couple also have a two-year-old son, Otis Alexander. She said of her son,
He's so smart and just plays his piano all day long. He's really musical, so we're trying to encourage that.
The two were spotted grabbing breakfast Monday morning in Brooklyn, New York.
I don't have children (that I know of), but I would assume most of the days following giving birth are filled with crying, lack of sleep and probably gross things babies do.
Meanwhile, actual Goddess Olivia Wilde and husband of Goddess Jason Sudeikis are walking around like it's no big deal.
Of course, she did post this photo talking about her new "nocturnal" state of existence.
Wilde told People magazine,
There's something really beautiful about pregnancy. It is a time when you feel very connected to your body so right now — not having reached the point where I am definitely physically pregnant — I feel beautiful being in that space.
Congratulations to both Wilde and Sudeikis on their growing, healthy family!
I'm still pretty angry at how gorgeous she is though.