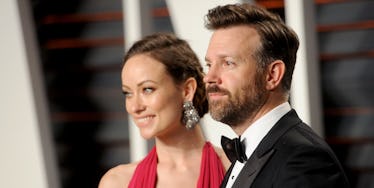 Olivia Wilde And Jason Sudeikis Gave Birth To An Adorable Baby Girl
REX/Shutterstock
Powerhouse celebrity couple Olivia Wilde and Jason Sudeikis finally welcomed their new baby girl into the world, and we just CANNOT handle the little munchkin's cuteness.
Congratulations, Olivia and Jason, on your second child together. The world just got a whole lot cuter thanks to you guys.
Real talk though -- does this duo constantly slay #CoupleGoals or what?!
SUCH swag parents.
Their new baby's name is super pretty: Daisy Josephine Sudeikis. It's fit for a little princess.
Olivia went on Instagram to break the incredible news to fans with a picture of her baby girl, looking adorable (and cozy) as heck all snuggled up.
The 32-year-old actress and model posted a sweet caption along with her Instagram photo.
She wrote,
There goes the neighborhood. Daisy Josephine Sudeikis. Born, like a boss, on #internationaldayofthegirl
Have a look at the picture for yourself and try not to break out into a crazy smile.
You, honestly, will fail miserably.
Look at that tiny onesie! It's clear this baby's crushing the style game HARD already.
Just last month we reported Olivia Wilde had a savagely awesome message for people who don't offer up their seats to pregnant women.
She was riding on a subway car chock-full of riders who did NOT follow any common courtesy of getting up and letting pregnant Olivia sit down.
Her response, was straight-up epic, as she tweeted her major feels about what just went down, saying,
NBD, able-bodied riders who won't give your seat to a GIANT preggo. I'll just stand riiiiight next to your head and pray I go into labor.
Heck YEAH, Olivia, you set them straight like the boss you are.
Her fans were really upset about how the subway riders treated Olivia as well… and I am RIGHT there with them.
Fast-forwarding back to today, I don't know about all of you, but I seriously cannot wait for more pictures of sweet baby Daisy.
Cheers, Olivia and Jason.
Citations: Olivia Wilde Gives Birth to a Baby Girl! (Popsugar)