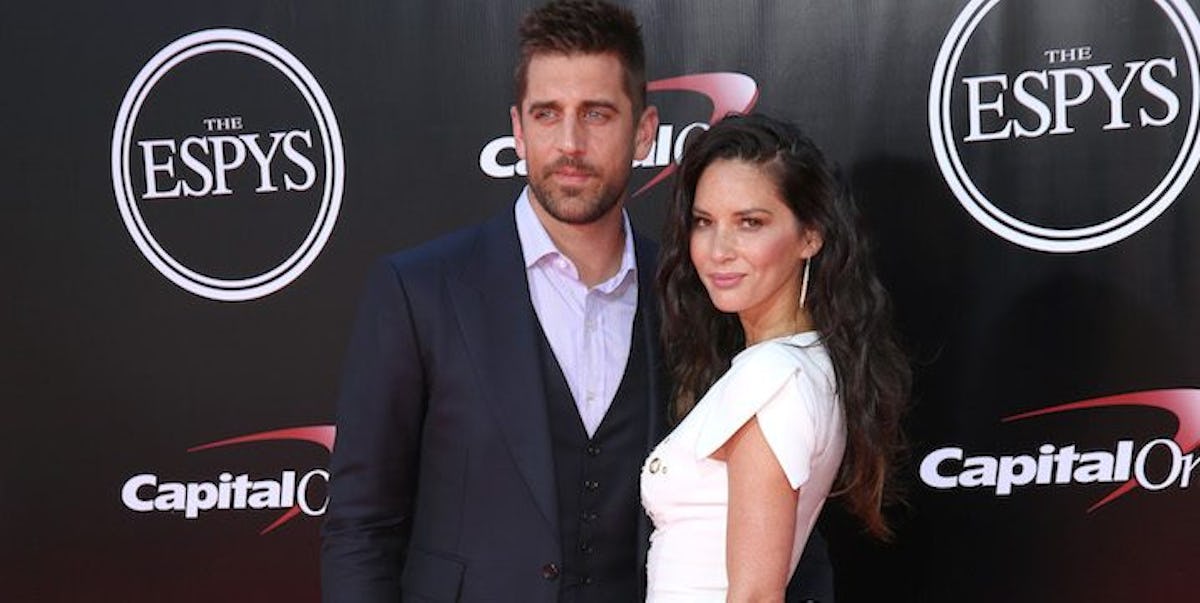 Olivia Munn Thanks Aaron Rodgers' Fans For Support Despite Off-Field 'Adversity'
REX/Shutterstock
Unlike the Green Bay O-line, Olivia Munn has Aaron Rodgers' back (burn).
Amidst messy off-field drama in the Rodgers family, Olivia Munn went to Instagram to thank Rodgers' fans after his team's season-ending loss to the Arizona Cardinals.
She posted a sweet handwritten letter to her account with a yellow and green heart as the caption, the colors of the Green Bay Packers.
In the letter she wrote,
So proud of this team. They faced a lot of adversity on and off the field, but battled to get this far. THANK YOU to those of you who encouraged and supported them by choosing to put out only positive energy. It helped get them this far.
While most of the sentiment is pretty clearly about the team's loss, a lot of the letter surrounds recent controversy about her long-time boyfriend's family issues.
Reportedly, Aaron hasn't been in touch with his family since 2014, around the same time he started dating Olivia Munn. This was magnified last year when Aaron's brother Jordan had a short stint on "The Bachelorette."
While trying to win over JoJo, Jordan said she probably wouldn't have a chance to meet Aaron because he had distanced himself from the family.
While on WISN, Aaron addressed Jordan's comments, saying,
I haven't seen the show, to be honest with you, so it hasn't really affected me a whole lot. As far as those kinds of things go, I've always found that it's a little inappropriate to talk publicly about some family matters, so I'm just — I'm not going to speak on those things. But I wish him well in the competition.
During an interview with the New York Times, Aaron's father addressed rumors of the familial rift and Jordan's participation on "The Bachelorette," stating,
One in the news is enough for us. Fame can change things.
Did Olivia Munn sort of Yoko Ono the Rodgers family?
Citations: Olivia Munn Thanks Fans for Supporting Boyfriend Aaron Rodgers and Green Bay Packers After Their Loss (ET), Aaron Rodgers Connects With His Hometown, but the Family Huddle Is Broken (New York Times)