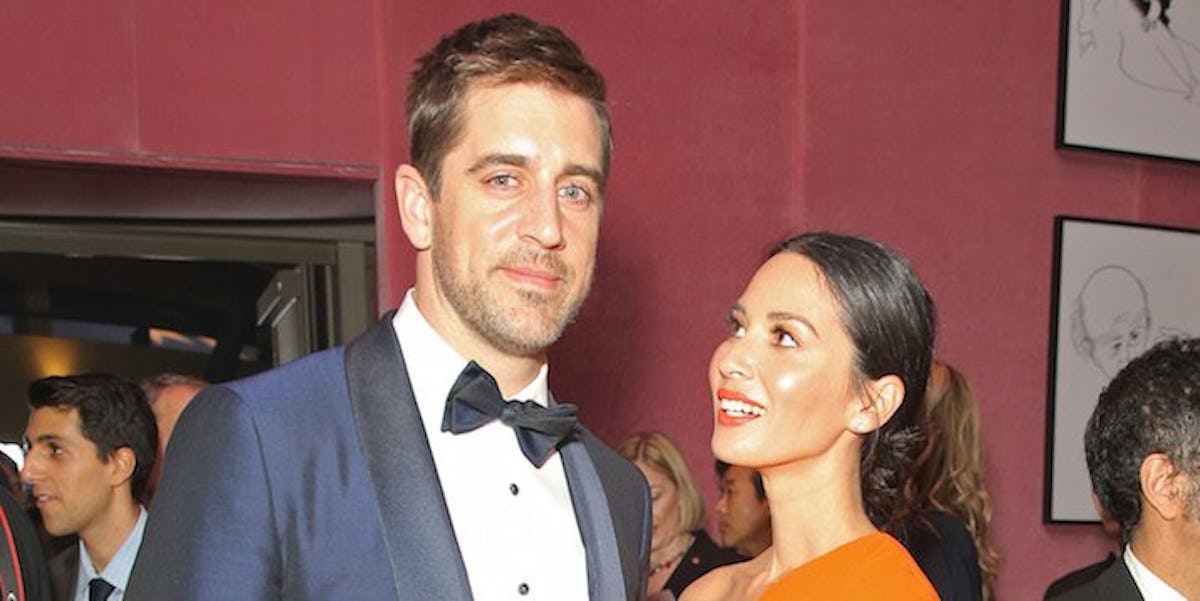 Olivia Munn Fuels Engagement Rumors In Pic Wearing Ring On That Finger
REX/Shutterstock
Could "Ocean's Eight" star Olivia Munn and Greenbay Packers quarterback Aaron Rodgers be engaaaaaaaaaaaged?
IDFK. You know I don't know, but you're still going to read ahead because I'm going to show you pictures and say some sassy shit about famous people.
For a brief moment, life will feel light, manageable, even inconsequential. Let's get started.
Paparazzi snapped pictures of Olivia driving around Beverly Hills with a fat, juicy sparkler on her left ring finger. W-W-WHAAAT?!
According to ET, she and Aaron were leaving a party when the paps noticed the ring. Perhaps not making it to the Super Bowl this year left a little extra room in Aaron's schedule for planning eternity with Liv.
When the Packers totally biffed the NFC Championship game against the Atlanta Falcons, Olivia shared a message of gratitude with fans on Instagram.
She wrote,
So proud of this team. They faced a lot of adversity on and off the field, but battled to get this far. THANK YOU to those of you who encouraged and supported them by choosing to put out only positive energy. It helped them get this far.
Finally. Olivia has proven her loyalty to Aaron via social media. Now he can make her his football bride, complete with a dress made of beautiful pig skin and a veil attached to a big-ass helmet.
On that day, Liv' mom, Kim, will sit proudly beaming among a crowd of hundreds — maybe thousands — to witness her daughter recite her vows.
In May, Kim told ET she wanted her daughter to have a "big wedding."
She explained,
Because I have big families. All my brothers and sister and my nieces and nephews. They can't wait for them to get married.
Whether Aaron's parents and siblings will attend his future wedding is still undecided. His brother, "Bachelorette" season 12 winner Jordan Rodgers, revealed Aaron's estrangement from the family at one point during his stint on the reality show.
Aaron's father, Ed, told the New York Times,
Fame can change things… It's complicated. We're hoping for the best.
You hear that, Olivia? You're his whole family, now.
Citations: Olivia Munn Spotted Wearing a Gorgeous Rock on 'That' Finger -- But Is It an Engagement Ring? (Entertainment Tonight)