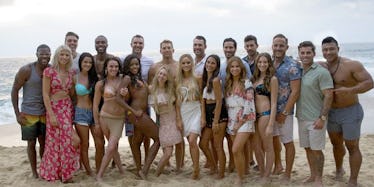 This 'Bachelor In Paradise' Cast Member Has Already Dated Another 'Bachelor' Alum
ABC/Paul Hebert
What's better than two former Bachelor alums dating? Nothing. I never understand why people scoff at the concept of finding love this way. Not so much the whole "get engaged in six weeks" thing, but hitting it off and falling in love with someone else who has gone through the journey. It's basically like dating your co-worker — take note from Carly Waddell and Evan Bass.
As it turns out, this does happen... probably more often than we know. That's the shocking thing — how could two Bachelor people date with no one knowing? Here's a juicy tidbit: Reportedly, Derek Peth dated Olivia Caridi before Bachelor in Paradise. Rumors were swirling about the two, so Reality Steve went right to the source. He asked Caridi point-blank on her podcast, Mouthing Off, and she confirmed the rumors.
However, neither of their social media accounts confirm that the two dated. In fact, Caridi seems definitely single. She tweeted on August 9,
I just deleted my Bumble for the 4,569th time because tonight I'm over it but in a week I'll probably download it again.
Same, Liv, same. In July, she posted about buying a house in Nashville, and also brought up being single... again. Pattern, much? The Boomerang video was her holding up a "Sold" sign with the caption,
I'm not off the market yet, but my new house is! Now I hope you'll join me on my journey of gutting & renovating it, oh and maybe finding me a nice Southern man! Also, I don't know anyone, so any gals want to be frans? DM me! #sold #firsttimebuyer #nashville
So, if there was any question — Olivia is definitely single and has been for (at least) the past couple of months.
As for Derek Peth, aka Jim Halpert, he also makes no mention of a romantic interest on Instagram or Twitter. Hmmm... However, he's definitely geeked for Paradise.
Actually, the only public interaction I could find between Caridi and Peth was this weird inside joke from 2016.
I'm interested to see if Derek ends up with anyone after Paradise. I guess we'll see when the season kicks off on August 13. Whether these two find love inside the Bachelor family or not, wishing them the best for their future endeavors.