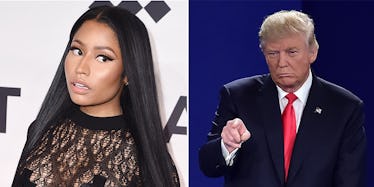 Nicki Minaj's Comparison Of Donald Trump And Will Ferrell Makes So Much Sense
REX/Shutterstock
During Wednesday night's third and final presidential debate, Hillary Clinton came out firing, and Donald Trump, well, was plain old Donald.
After screaming again about his ICE endorsement, which isn't true, he segued to chatter about NAFTA being the worst document in the history of paper.
Then, after speaking about immigration, protecting our borders and building a wall, he spontaneously ended his rant by saying this country has too many "bad hombres."
.@realDonaldTrump said "bad hombres" during last night's #debate and the Internet lost its mind: https://t.co/ranacMGrUW pic.twitter.com/HoHDwzqjtW — Vogue Magazine (@voguemagazine) October 20, 2016
Bruh, what?
Naturally, Twitter went in on Trump, making fun of his ridiculous choice of words.
hombre: a man ombré: having colors or tones that shade into each other #debatenight — Merriam-Webster (@MerriamWebster) October 20, 2016
Some #badhombres #debatenight pic.twitter.com/hQ7dOW1yUz — Jenn Hoffman (@JennHoffman) October 20, 2016
Donald Trump obviously had quite a few detractors during and after the debate, but none went in on this man more than... Nicki Minaj?!
Yup, Nicki watched the debate with the rest of us, and just like us, she thought Donald Trump was offensive and comical.
The caption, which you really need to appreciate in its entirety, reads,
Yo I'm cryin. Like this man really said 'bad hombres' at a crucial debate while running for President of the USA!!!! And pronounced it as hambre like he hungry. Like I'm cracking up laughing so hard. HAVE YALL EVER SEEN THE MOVIE 'THE CAMPAIGN'?!!?!?! With Will Ferrell & Zach Galifianakis?!?! Pls watch that movie if u wanna cry laughin for 2 hours. In the movie, the craziest shit they do, keeps inadvertently moving them up in the polls!!!!! Donald is Will Ferrell in that movie y'all pls watch it if u haven't seen it. And I don't get high, but if u watch it when u high u will be on the FLOOR!!!!!!!!!!!!!!!! Its the clueless face that rlly has me laughing. It's as tho he really doesn't know it's bad. On another note, I think Michelle should absolutely run in 8 years.
Damn, Donald. Nicki Minaj out here clowning on your rants, comparing you to Will Ferrell in a comedy movie, which is without a doubt one of the hottest takes I've seen from Wednesday night's debate.