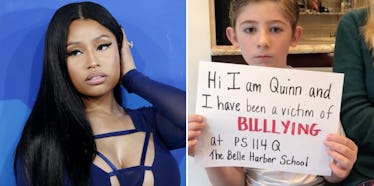 Nicki Minaj Had The Perfect Anti-Bullying Message For Her Teacher's Son
REUTERS/Instagram
When Nicki Minaj isn't breaking rappers' hearts and pretending to be pregnant, she's making the world a better place.
That much was made clear after the 34-year-old rapper's fifth grade teacher Liz Smith-Breslin posted a video about her son Quinn being bullied at school.
During the video, which was shared on Instagram, the little boy and his mom silently explain the harassment he is exposed to at his elementary school using a series of handwritten messages.
Here's the first message Quinn wrote about the bullying he endures at school.
After that, Quinn's mom Liz introduces herself with a stern message to the bullies.
Liz then takes over and begins to cycle through other messages explaining the details of the constant bullying Quinn and his friends put up with.
Nicki Minaj's fifth grade teacher then goes on to elaborate on the different names and labels Quinn is given by his bullies at school. Nicki shared the video on her on Instagram account with a lengthy, uplifting message addressed to Quinn. The caption begins,
Dear Quinn, from the moment I met you (yes, the day you ran away from me because my pink lipstick scared you), I just knew you were on the road to greatness!
The 34-year-old award-winning artist then went on to compare Quinn to Tom Cruise, Albert Einstein and Meryl Streep.
She then went on to say,
Your mother changed my life as my fifth grade teacher and now I get to see her little Prince grow up and take on this world, head on! Anyone bullying you is simply just intimidated by your greatness and potential. One day I'm going to buy a ticket and come and watch you acting on the big screen.
And that is how you silence the bullies!
Here's the full clip along with Nicki's heartfelt, anti-bullying message to Quinn.
It's refreshing to see successful celebrities taking a break from their grueling work schedules to reach out and help instigate positive change in young people's lives.
And while most kids in elementary school don't have moms that personally know Nicki Minaj and other celebrities, Nicki's message helps highlight there is a way to silence the bullies -- just use your voice (or flash cards)!
If all else fails, maybe the ole "what's good?" clap back will get the job done...
Just ask Miley.
Citations: Nicki Minaj stands up against bullies on behalf of her 5th grade teacher's son (Mashable)