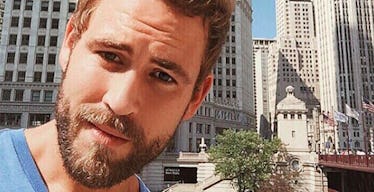 New Photos Show Nick Viall And A 'Bachelor' Contestant Packing On The PDA
Instagram
Nick Viall isn't giving up until he finds love on "The Bachelor."
The 36-year-old reality TV star has been part of the show for years now.
He first appeared on Andi Dorfman's season, but then continued to capture our hearts when he returned to pursue love with Kaitlyn Bristowe.
After he was rejected by both women, he joined the cast of "Bachelor in Paradise" to date and mingle with the other contestants.
When things didn't work out with Jen Saviano, Nick was selected by producers to become the next "Bachelor." HIS TIME IS NOW!
Will Nick really find true love? Will he get down on one knee? I HAVE SO MANY QUESTIONS AND I NEED ANSWERS NOW.
If you're as anxious as I am to know WTF will happen on Nick's season, then guess what? We've got you covered.
Life & Style magazine (on newsstands now) has exclusive pictures of "The Bachelor" Nick Viall on a one-on-one date with a contestant from the new season.
WOOT WOOT! GOD BLESSSSSS.
The woman's name is reportedly Vanessa, and an eyewitness told the magazine,
They looked totally in love. They were acting like a couple on their honeymoon.
THATTA BOY, NICK. Reel 'em in, big fellah.
I mean, the photos don't lie. Look how cute they are!
Nick and Vanessa sitting in a tree, K-I-S-S-I-N-G.
Melts my heart.
According to Life & Style, the couple went on a Zero Gravity Experience airplane ride at Long Beach Airport in California.
Oh, and get this! The witness says they were locking lips while in flight:
They were kissing passionately on the plane.
OOHHH, JUICY!
As great as this date sounds, there was one catch. The witness explains,
She got airsick and threw up at one point. But otherwise, they had a great time.
LOL, poor girl. Hopefully Nick and Vanessa were smooching it up BEFORE she vommed.
It's unclear when Nick's season will officially air, but I'm looking forward to seeing him interact with Vanessa and the other ladies on "The Bachelor."
Good luck, my man. You'll need it.
Citations: Photos of Nick Viall On Date (Life & Style Weekly)