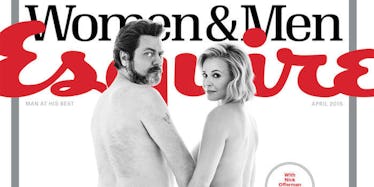 Nick Offerman And Chelsea Handler Stripped Down For Magazine Cover
Chelsea Handler is no stranger to getting naked for the camera — she's been tweeting topless pics in protest of female oppression for months — but this time, she's not alone.
The comedienne stripped down with pal Nick Offerman for Esquire's April 2015 issue, which, according to the magazine's website, is "devoted entirely to how men and women interact."
The cover features the naked pair posing hand-in-hand with their backs (read: butts) to the camera. It's a modern-day iteration of John Lennon and Yoko Ono's 1968 Two Virgins album cover.
Handler's propensity for posing nude is less of an exhibitionist display and more of a political statement. An avid proponent of the #FreeTheNipple movement, she recently told Elle she doesn't "understand why nipples are nudity," arguing,
Men can show their nipples, but if we have breasts we can't show them?… I don't understand. Once somebody tells me I can't do something, I have to figure out how to do it.
Like Handler, this isn't Offerman's first time donning his birthday suit for the camera. He went full-frontal in an episode of "Deadwood" in 2004 and showed dude booty for his role in the 2012 film "Somebody Up There Likes Me."
In an interview with Flavorwire, Offerman admitted he doesn't "give a shit" about being naked on-camera.
He said,
I'm not an exhibitionist... but when things call for it, I've done it onstage, I've done it onscreen… I enjoy the beauty of nature.
Check out the cover below, and grab the issue when it hits newsstands March 24.
Citations: Chelsea Handler Gets Naked With Nick Offerman For Esquire Cover (US Magazine), Handler I Dont Understand Why Nipples Are Nudity (Elle)