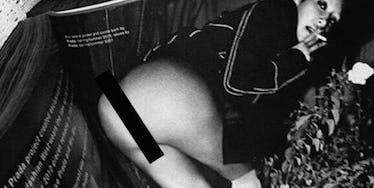 Leaked Photo Shows Kim Kardashian's Full Butt In Upcoming Magazine (NSFW)
Kim Kardashian is set to break the Internet once again with another raunchy magazine spread.
This time, Kim is baring her famous behind for the spring/summer 2015 issue of LOVE magazine.
That issue doesn't come out for another week, but a photo from the spread already made its way to Twitter.
The black and white photo shows Mrs. Kardashian-West smoking a cigarette while sticking out her ass for all the world to see.
I doubt this spread will make the same kind of waves her PAPER Magazine one did, but I guess we'll just have to wait until February 9 to find out.
Here's a sneak peek:
Citations: Kim Kardashian Shows Her Ass (Complex)