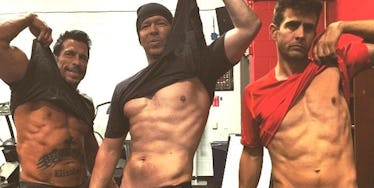 New Kids On The Block Prove They Still Have It With Their Six-Pack Abs (Photo)
New Kids on the Block aren't kids anymore, but they still have bodies as if they were.
Members of the 80s-era boy band recently flashed their abs in a photo posted to Instagram for all the world to see.
The pic shows Donnie Wahlberg, Danny Wood and Joey McIntyre flexing their toned stomachs.
The band is currently on tour with TLC and Nelly, and they obviously got in shape for the occasion.
The only problem with this photo, and the tour as a whole, is Mark Wahlberg is nowhere to be seen.
Naturally, Marky Mark is too big of a star these days to slum it with his former bandmates.
But if you're not too good for New Kids on the Block, check out the photo below.
Citations: New Kids On The Blocks Donnie Wahlberg Danny Wood and Joey McIntyre show off their impressive six packs (Daily Mail)