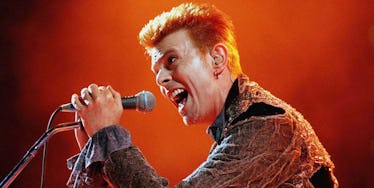 New David Bowie Music Has Been Released In Honor Of His 70th Birthday
REUTERS
David Bowie found out his cancer was terminal just three months before his death -- and while he was working on the music video that would cement his legacy.
Bowie, who would have turned 70-years-old on Sunday, was working on the music video for his song "Lazarus" when he was told his cancer was terminal, according to the BBC.
In the BBC documentary "David Bowie: The Last Five Years," which aired on Saturday, Johan Renck, who directed the music video for "Lazarus," explained the circumstance.
Renck said,
I found out later that the week we were shooting is when he found out that it is over [...] We'll end treatment or whatever capacity that means, that his illness has won.
After Bowie's death, many people believed that the video for "Lazarus" was made with the icon's imminent death in mind.
The video features Bowie lying in a hospital bed under bandages and buttons.
But this new information paints the video in a completely different light.
Renck said that the video was not made with Bowie's illness in mind. He said,
To me it had to do with the biblical aspect of it, you know the man who would rise again, and it had nothing to do with him being ill. That was only because I liked the imagery of it.
To mark what would have been Bowie's 70th birthday, one more music video and some song recordings were released.
A new EP of four songs, titled "No Plan," was released on Sunday.
It features Bowie's last ever recordings, which were made around the same time he was recording "Lazarus" and the rest of the "Blackstar" album.
A music video for the title track "No Plan" was also released.
The video features some references to Bowie's extensive catalogue of musical imagery. It shows a shop called "Newton Electrical" -- which is a reference to his "The Man Who Fell To Earth" character -- with a row of television broadcasting his lyrics.