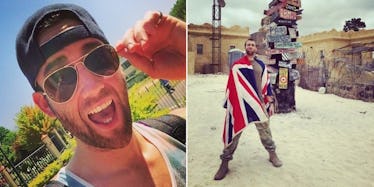 Neville Longbottom's Instagram Is Finally Public And It's Everything Right Now
The Internet was set ablaze earlier this week when Emma Watson tweeted a photo of Matthew Lewis, the actor who played Neville Longbottom in the "Harry Potter" films.
Lewis was always seen as an awkward nerd, but now he is all grown up and quite handsome.
Due to the brouhaha surrounding the photo, Lewis decided to make his Instagram account public.
That means all the "Potter" fans of the world can fawn over his photos.
Lewis made this fact known to the adoring public when he retweeted this:
.@Mattdavelewis finally set his Instagram account public! Follow him https://t.co/fSAcTGc9R0 — AccioMDL (@AccioMDL) March 8, 2015
In order to celebrate this joyous occurrence, here are some photos of the man formerly known as Neville Longbottom:
Here he is bro-ing out.
Lewis got fit as hell.
Here he is messing around with the cast of his new BBC show.
Happy holidays from Neville Longbottom.
Lewis looks good in a uniform.
The ladies love him.
Here's Lewis' cowboy look.
Neville supports his country.
Neville fears nothing.
He's even wooing flight attendants.
Draco and Neville golf together occasionally.
Neville is the champion.
Neville is all buttoned up.
Neville smash.
Lewis' life seems pretty darn great. Don't you agree?
Citations: Neville Longbottoms Finally Set His Instagram Account Public (Buzzfeed)